Every substance has its appeal. Why some people like a hardwood floor and some marble floor?
That's the area of psychology. But if you are on the wood floor, you must be familiar with the urethane finish. Take a look here, if you are hunting for the best applicator for polyurethane on your floorboard.
Traditional cloth applicator has been replaced by modern high-functional applicators, to make your job fast and easy. Still, that leaves the question of which one to choose. Considering the variance in different polyurethane, the best one may turn worst.
To choose one, you should learn how they work first. Are you interest to get acquainted with all? Then explore here.
Here is the List of Best Polyurethane Applicator Reviewed
What is the Best Applicator for Polyurethane on Hardwood Floors?
Polyurethane works as a protective barrier to screen your wooden floor from abrasions. There are two kinds of polyurethane: Oil-based and water-based. And they come in seven levels to give you different kind of shimmering, from matt to glossy.
You need to pick the applicator well-suited with the urethane you want to apply. In general, lambswool applicator and china bristle brushes are more suited for oil adapted poly; while synthetic applicators work best with waterborne poly.
Before digging dip, let's look at the polyurethane applicators available in the market.
T-bar Applicator:
This applicator can cover a larger area in less time and gives a perfect finish on hardwood floors. It comes in different lengths and is flexible enough to reach every corner. You can slide it to spread finish over the edges or narrow areas. Most T-bars use synthetic covers that put them under water-based poly. However, they work just right with oil-based poly as well. And that is without leaving any fleck or bubble.
Lambswool Applicator:
You can call it the winsome-marrow of oil-based urethane. On a side note, it works wonderfully as a stain applicator. Lambswool absorbs the solution nicely and delivers an even finish in each stroke. However, they might leave lint on your wood floor. Brush it properly before applying your finish.
Brush Applicator:
I will say a brush is the best one, to apply oil-based poly on a hardwood floor. It can apply finish inside the pores of the wood and to places you can't presume. Using brushes gives more control over work and helps easy and fast application.
Foam Pad Applicator:
For waterborne urethane, you should definitely try this one. It will give an even, glossy finish to your wood board that you can never overlook. However, it needs to smoothen out after the first application.
Roller Applicator:
You will find them ordinarily used to apply finish on parquet flooring. It can apply both types of urethane smoothly.
Now that you know about the applicators, so which one is the best among them. Labeling one as the best applicator for polyurethane isn't that simple. As you know by now, each one is proficient in applying a particular kind of urethane. And they have their own techniques. Nevertheless, they all will give a gleaming finish to your hardwood floor.
As for me, I will go with a brush applicator. However, you should ponder it over to see what is best for you. To know more, please read the following section.
Top 7 Best Applicator For Polyurethane On Hardwood Floors Reviews
Here I will give you a follow-up on our previous discussion. These seven applicators are deliberately nominated so that I can guide you through them in more detail.
1. Duratool 18″ Lightweight T-Bar Applicator with Refill– Best floor finish applicator on Wood Floor
Feature Highlights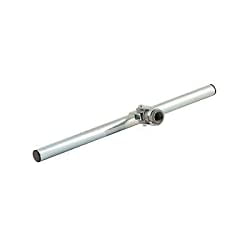 Hard-wearing applicator
Cover a large area in each lap
Quick and labour-saving application of the finish
Spotless finish without creating bubbles
Light-weight makes handling easy
Uses a wide range of waterborne and solvent-based finishes
Are you planning on applying polyurethane on your hardwood floors? Then this T-bar can come most handy without costing you much. This ethereal tool is the best T-Bar applicator for wood floors.
Duratool T-bar can cover a substantial area within a short time, usually 10000 sq. feet in an hour. This multiuse applicator goes well with both water-based and oil-based finishes. Moreover, you will get a uniform and smooth result regardless of the type you use.
You can use it on any surface be it tiled, wooden, concrete, vinyl, or stony. The bar is adaptable enough to let you slant and position according to your need. That makes the job more easy and fast. And you will get a bubble-free, even finish in no time.
The bar is fit for sustained use. That means you can poly your floorboard over a long period with one T-bar and that comes at a minimum price. Besides, you are getting a refill pad, and that is absolutely free.
Downside: Despite what many people say, this tool isn't one of the lightest.
Specifications:
An 18″ long T-Bar
Compatible with solvent-based and waterborne finishes
Covering package measurements 20.4 x 4.9 x 2.5 in inches
Weight of applicator 1.75 pounds
Bundle includes one refill-pad
Gray color bar
Verdict
While many people say this tool is one of the lightest, that is not the case. Luckily, the actual weight of the tool does provide some benefits. For instance, the applicator feels sturdy, and the weight makes it feel smoother. Overall, consider buying this product if you want a beautiful and well-distributed finish.
---
2. Lambswool Stain Applicator – Best Lambswool applicator for Oil Based Polyurethane
Feature Highlights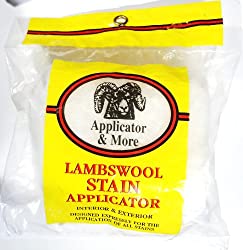 Suitable for small area application
Swift application of stains
High absorbing material gives even finish
Even distribution of color
Require less dipping
No more running of stains or polyurethane
Fit for both inner and outer use
As the name says, the applicator is composed of lamb's wool. This hand-stainer is ideal for covering a small area. Lambswool works best as oil-based polyurethane applicator. However, you can do trimming and molding equally. The pad of the applicator renders unvarying distribution of color and makes the procedure easy.
The wool of the lambs used in the stainer makes it both soft and lasting. Since lamb's wool is high at absorbing liquid and more tractable, you will get a more even finish in one brush. And the fiber construction of wool enables it to withstand prolonged use.
Besides, if you are allergic to paints or similar items, then it is your rescuer. The wool of lambs is known for its hypoallergenic feature. Thus, it gives relief to the allergy susceptibles.
Lambswool stain applicator attends varying purposes that include but are not limited to varnishing, polyurethane finishing, floor waxing, and oil-based staining. It requires minimum effort to apply strains, thanks to the absorbing capability of wools. Besides, it saves the time of frequent dunking and gives a smooth finish readily.
Downside: Cleaning this product is a hassle, sometimes taking a lot of time. Make sure to do it properly if you want to keep it in good shape.
Specifications:
100% pure wool collected from young sheep
Only 5 ounces in weight
Stainer's measurement in inches – 5 x 4 x 2.5
Holds by a wooden handle
Comes with one applicator for staining
Verdict
Here's the perfect alternative if you don't want to deal with brushes again. Though cleaning isn't quick, this applicator is worth the time and patience. It's a terrific tool that improves staining speed while making it a much easier process.
---
3. FoamPRO Floor Coating Foam Applicator– Best Applicator for Water-Based Polyurethane
Feature Highlights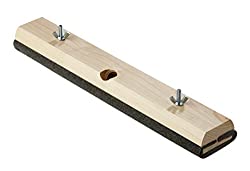 Costs less than other applicators
Can be resized according to need
Solvent resistant material
Doesn't leave any lint
Doesn't disentangle during application
Can be used for wiping to give a smooth finish
The foam pad gives a clear and flawless finish to polyurethane. However, it's a step by step process that will lead you to that perfect finish.
A foam pad applicator is the best applicator for water-based polyurethane. Because of the microfiber component, it is more resistant to solvent. So, oil-based polyurethane can't stick to it.
The foam pad doesn't work like other applicators. You need to be patient when using one. It gives a perfectly leveled finish without leaving any spot. But for that you need to apply the poly in a certain way. The process goes like that:
Apply your waterborne poly with some pressure using the pad.
Then even out using straight, light strokes. You can use the same foam pad for the process.
That's it. Give it time, and you will find a translucent, smooth finish on your floorboard. Foams can absorb liquid better than brush or lambswool. Which also made Foam Floor Coating Applicator a perfect match for the water-based urethane. Nevertheless, you can use it for enamel or stain coating as well.
Downside: This applicator may leave some fuzz over surfaces, so make sure to take a few minutes to clean it up before use.
Specifications:
Pad applicator made of foam
Stringed with a wooden block
The weight measures 1.17 in pounds
Three dimensional measurement in inches- 3 x 16 x 2.5
Application for floor coating
Verdict
If your purpose is to stain or apply a brand-new finish to wood flooring, go with this applicator. The absorption of the lambswool is surreal, as it soaks up solvents efficiently for the quick and effective completion of any task.
---
4. OLD MASTERS 100% Pure Lamsbwool Stain Applicator – Best Wood Floor Polyurethane Applicator
Feature Highlights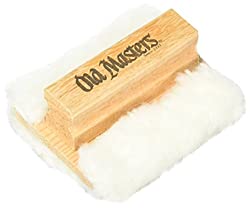 Suitable for covering a large area
Gives more control over work
Fast application of stains
Provides good resistance capability
Works best on a straight, even wood-board
Helps the solution to go inside the wood-pores
Gives smooth without making ripples
This hand-fit stain applicator gives better utility by providing a large area of application. You can paint your floorboard, deck or any other wooden furniture using this multifaceted tool. It surpasses others when it comes to wood floor polyurethane applicator. The application method helps better absorption of urethane in the wooden surface.
It gives the convenience of both brush and roller applicators. Thus, you can have more control over the work. That will enable to poly a large area within a short period.
The pad is composed of lambswool. As you know by now, lambswool can absorb solvent better than other materials. You will get a lot more consistent finish with Old Masters strainers. Besides, you will not have to dip in much during application.
Old Masters Stain Applicator gives a shiny and consistent finish whether polying a wood or marble floor. And that is without creating any ripples. The application technique improves the resistance power of the surface. And you will get a smooth poly finish every time.
Downside: The pole of the applicator doesn't feel as sturdy as expected.
Specifications:
100% pure lambswool made
Dimensions of the applicator in inches – 13.5 x 7.5 x 8.25
Proportions in inches – 3.5″ x 5″
5 ounces light-weight stainer
Offers multi-functionality with domestic-bristle-paintbrushes, rollers and painting articles
Verdict
By holding a lot of stains, this applicator reduces a lot of the effort required by other tools. You can work on your projects faster and easier. Also, the coverage is excellent, as the brush can get in between deck boards and other tight spaces.
---
5. EVERSPROUT Goliath Deck Stain Applicator Brush & Extension Pole – Best for Oil-Based Polyurethane
Feature Highlights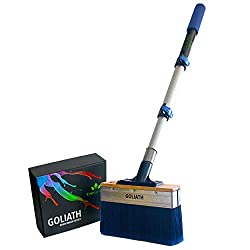 Helps apply the finish in unreachable places
Contains more urethane
Less dipping
Fast and easy staining
Excellent quality bristles
Goliath Deck Stain Brush is designed in a wide and extended structure to make staining easy. The width of the brush allows large-area application. And the bristle of the applicator is thick enough to hold more stain in each dip. Thus, you can cover a large space with less time and efforts.
Deck Stain Brush can do painting, staining, and sealing. However, it is the best applicator for oil-based polyurethane. The extension pole of the brush enables easy application without straining the back. It can be drawn-out in 3 stages so that you can tailor it according to your length.
Besides, the high-grade bristles allow long-time use. The sturdy materials used in connectors and other parts made it capable of heavy-duty performance. Products are hand-inspected before packaging, and you will get one year warranty with top-class customer service. However, there isn't any replacement pad for you.
Downside: Dragging this applicator can be troublesome if you don't follow specific steps.
Specifications:
Top-quality metal
Ultra-wide with 7 inches reusable brush
Proportions of the brush in inches- 7″ x 7″ x 2″
Pole extension range 1.5 to 3 feet
Average celling reach 8 to 10 feet
Brush weight counts in 2.2 pounds
Comes inside a package of 17 x 9 x 3.25 inches
The bundle includes a case for storing, a metal comb for cleaning, and a cutter
Verdict
Different, and yet still super useful. Once you use this applicator to apply polyurethane, you'll notice that the finish comes out as good-looking and clean. The distribution is remarkable, and the tool doesn't leave spots behind.
---
6. RUST-OLEUM Oil-Based Applicator – Best Applicator for Oil Based Polyurethane
Feature Highlights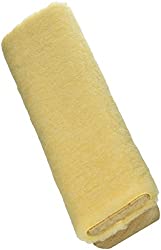 Provides rich color in each stroke
Quick and simple application
Easy to clean after use
Gives a dry finish
Oil-based polyurethane finish usually requires more of the solution. Besides, you need to apply the finish fast as it tends to dry out soon. It might make the maneuver hard time-to-time. With Rust-Oleum, you can make the job simple.
Rust-Oleum is moulded to apply the oil-based finish. It is a perfect match for Varathane oil-based formula. Varathane oil is renowned for its dark and rich color. And you can now seize that in your floorboard with long, effortless strokes of Rust-Oleum.
The material of the applicator is long-lasting. It can withstand harsh uses for a wide range of applications. You can apply both finishes and stains using the applicator.
Smart and handy design renders convenient application in all staining and painting jobs.
Rust-Oleum is light-weighted and glides through the wood board steadily. That reduces the time to half and saves from needless toiling. And you will get a perfectly smooth finish every time you apply an oil-based polyurethane.
The applicator absorbs the solution generously and gives a full coating in each delivery. It is suitable for the large-area application. And you can conveniently wash the stains away after finishing your floorboard.
Downside: Sadly, the paint retention of the applicator isn't good. This issue keeps it from getting the job done in super tight spaces.
Specifications:
Compatible with Varathane oil-based finish
Comes in 10 inches applicator
The measurements in inches- 3.5 x 3.5 x 0.8
Weight counts 5.3 in ounces
Wood thread for handle
Verdict
This is another applicator designed to make your life easier. When conventional brushes take a ton of time to finish a wall, this tool comes in as a lifesaver. It puts up an excellent performance over hardwood floors, large areas, walls, and more.
---
7. Duratool Durafoam Floor/trim Pad Paint and Finish Applicator – Best stain applicator pads
Feature Highlights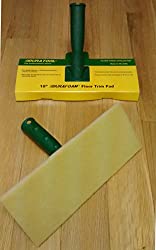 Well-suited with both oil and water-based solution
Reusable with every size of foam pad
Can reach on the corners
Can apply stain, finish and paint
Durafoam is fit to use all kinds of applications. You can paint and stain your items besides applying finish on them. Although foam applicators are not companionable with oil-based polyurethane, you can use this foam pad to apply both oil-based and water-based poly.
The foam pad is wide enough to give good coverage in each stroke. And it is threaded with a handle that is apt to couple with nearly all types of poles. Hence, you can use an extension pole of your preferred length to save your back from straining.
The handle of the pad is reusable. You can refill it with any pad size based on your convenience. Durafoam is super flexible and can reach the farthest corner of the house. It spreads evenly in every nook and corner, leaving no space out. The applicator gives a consistent and smooth finish regardless of the solution you are applying.
Besides, foam pads can absorb fluids better. That makes them perfect stain applicator pads as well. So, be it stain, poly or paint; whatever you want to apply Duratool can do that for you. And each application will get a uniform outcome.
Downside: Be careful while using this tool. Sometimes, it doesn't hold the stain evenly over large surfaces, which could damage the finish.
Specifications:
10 inches foam pad
Made from synthetic materials
Weighs only 5.6 ounces
Attached handle holds extension pole
Covering package dimensions in inches- 10.2 x 7.56 x 2.99
Verdict
Coming at an affordable price, this applicator refinishes hardwood floors to give them a brand new look. There's no handle included, but any broom handle works well with it. Use it carefully, and this product can become a reliable ally for your DIY work at home.
---
You May Read: Best Hardwood Floor Polish & Restorer
Things to Know Before Buying a Polyurethane Applicator
Polyurethane shelters hardwood floor from weather, scratches, and drying out. At the same time, it gives a glossy look on the floor. But first, you need to apply it rightly.
Choosing an applicator isn't the first step. To pick the best applicator for polyurethane, you must select the polyurethane first.
For oil-based polyurethane:
This kind of finish takes a comparatively long time to dry out and gives a warm color coating on the wood floor. Besides, it contains an inflammable component. This means you will require better ventilation. Nevertheless, it leaves a solid, lasting coat on the floorboard.
Lambswools, brushes, T-bar and rollers are your best pick if you are considering oil-modified polyurethane. I will recommend a brush or lambswool applicator over the other two. However, you will find brushes more expensive than lambswool.
For water-based polyurethane:
Waterborne finish dries out fast leaving a transparent glaze on the wood floor. It is useful in preserving wood color. However, due to its runny feature, it requires an applicator that can hold on more.
Foam applicators are perfect for applying water modified urethane. Nevertheless, you can use T-bar, rollers and brushes as well.
But is that all? As I said before, buying an applicator for the finish isn't a straightforward job. You just passed the first step of the buying process. Now you require to scrutinize the values you want to extract from them.
Look for these elements in your applicator, if you want to get the best out of your purchase.
Length and Width:
I suppose you want to make your job fast and easy. That is why you need an applicator that is wide and can cover a large area in a short time.
The length of the applicator is an important issue as well. If it isn't long enough to let you work standing straight, you will end up earning back injury besides a glossy finish.
Design:
It's not the aesthetic features you need to search for in the design but the comfort. Properties like a proper grip on the applicator and the ability to resize for varying needs make work simple. And how manageable it is for applying finish on edges or corners adds flexibility.
In short, how compliant the applicator is is a crucial determinant of the best applicator for polyurethane.
Calibre:
Both the quality of the building materials and the merits of the performance have to take into account. A cheaply produced applicator won't last long over frequent use. Besides, it might impact the finish by leaving marks or lint on the floor. 
Cost:
Price certainly is an impacting factor. Being expensive doesn't always ensure quality. But, choosing cheap won't help either. Pick the one with good quality, and don't mind the price. It will save your penny on frequent changing of the applicator. 
Reusable:
Can you refill the pad or brush of the applicator? How many times can you use them? Ask yourself before buying the applicator. And you will know how to find the answer in them. 
Packaging and Warranty:
Try to buy an applicator that comes in good wrapping and bears a warranty from the manufacturer. That will give you some assurance against uncertainty.
Expert Opinion:
Check on what the professionals have to say about a particular applicator or brand. That will help you gauge the grade of the product. At the same time, it will enrich your knowledge about usage.
Frequently Asked Questions:
1. What is the right way to apply polyurethane on the wood floor?
The best way is to begin applying poly from the corner and then gradually come to the center. And don't forget to plan your exit beforehand.
2. Why are there lines on my polyurethane finish?
It results from the streaks of finish application that has not smoothened out.
3. Is it better to apply polyurethane more than once at a time?
No, it isn't. Nor is it better for your finish. The added coating will take more time to dry out; and if you coat more than 3 times, it might look clumsy.
4. Do I have to seal the wood before applying polyurethane?
No, you can skip it. It isn't necessary.
5. What method of application is best for polyurethane – brush, wipe or spray?
Brushing technique is best for applying urethane on a flat, straight surface, like wood floors.
Conclusion
Protecting your house isn't limited to fortifying it against intruders. It includes preserving the structure that is shielding you from unknown hazards. Wood flooring has distinct artistic value.
Besides, it is easy to clean, exotic, and works as a natural insulator. There are many compelling reasons to have a penchant for it. But, you need to safeguard it to make it long-lasting.
Applying polyurethane finish will protect your hardwood floor from everyday spillage and scraping. But how to apply it? There comes the choice of applicators as you need the best applicator for polyurethane to get an impeccable, smooth finish.
If you are a perfectionist, it is better that you select your polyurethane first. And then pick the most pertinent one from these top applicators.