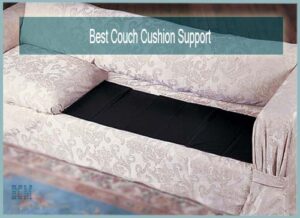 A sagging couch ruins the look and comfort of your living room. To give a new life to your couch, you need the best couch cushion support.
A couch can sag due to different reasons. But the most common one among them is the cushions being worn out. So what to do in such a scenario? Do you change the entire sofa?
Luckily, the answer is no. Cushion supports are an easy and inexpensive fix for your sagging cushions. They not only improve the current shape of your cushion but also strengthen them and increase its durability.
Here, read all that you need to know about cushion supports along with the details of some top picks of couch cushion support.
What is the Best Thing to Put Under Couch Cushions?
Couches are not only some pieces of furniture. Rather, they are our comforting places. We relax on them, watch movies lying on them and sometimes even sleep on them; because who can resist the comfort, right?
But when the cushion sinks, the couch becomes uncomfortable to even sit on. People sometimes throw out fine couches simply because the cushion has worn out; because they don't know any other options.
To start, let's know the reasons why cushions sink. There are a number of causes behind this. Such as the frame being broken, some parts of the couch being more frequently sat on than other parts of the couch, the springs not working, etc.
When these are the culprits behind your sagging sofa, there are pretty inexpensive things to put under couch cushions to make them firm again. Below are some options for fixing your sagging cushion.
Cardboards and plywoods
A couch support board can serve as the base of your couch. They fix your problems with broken frames or sagging cushions.
Cardboards or plywoods provide your couch with strength and support, making it durable. It is also a cheap option. You don't need any skills for this DIY project.
Start by buying large cardboard. The stronger the better. Use any cutting tool that allows you to cut the cardboard precisely.
Measure the length and width of your cushion for the precise sizing of the cardboard. Then carefully mark some points on your cardboard for cutting directions.
Make some smooth cuts on your cardboard to give the size of your cushion. Now place the cardboard under the cushion to see if it fits perfectly. If it doesn't, cut it again and again until the right size is achieved.
Before using them under the cushions, cover the edges of the cardboard with duct tape or slipcovers to prevent them from ripping the cushions.
New foam Insert
One of the biggest reasons behind couch cushions sagging is the foams being shabby. Foams are not so durable materials, and when the couch is often used for sleeping or the weight is unevenly distributed on different parts of the couch, the foams sag.
But there's nothing to worry about; foams are also cheap enough to change once in a while. They are incredibly easy to get, but you should try to find some better quality foams for more comfort.
Once you get some food foams, unzip the cushion covers and bring the old foams out of them. Then insert the new ones into the cover and you're done!
Batting
Polyester fiberfill or batting is a much more durable option compared to foams. They can be used on cushions and pillows.
Insert them into your cushion covers just like you would do with foams.
Under Cushion supports
Not everyone has either the time or energy for DIY projects. If you're one of them, you can get some ready-made cushion supports for a quite reasonable price.
Keep reading to find the details of some cushion supports that you should consider choosing from.
Top 6 Sagging Sofa Cushion Support Reviews
Below are the honest reviews of some of the best couch cushion support that can repair your couch.
1. Ultimate Sagging Cushion Repair Solution By SagsAway – Best Sagging Sofa Cushion Support
Being made of the highest-quality materials, this couch cushion support insert works amazingly on your sagging couch. The look and comfort of your couch will be as good as it was when you first brought it.
Saggy couches make your rooms look disastrous, let alone the discomfort of sitting on them. This support successfully repairs the sagging parts of your sofa to make your worries go away.
As stated earlier, worn-out foams are one of the biggest reasons behind sagging couches. But not with this foam! It is strong enough to last for a long time and it protects your couch from further damages.
Using these inserts are of no trouble. Just unzip the cushion covers of your couch, insert the foams inside, and zip it again.
Since all parts of your sofa do not sag evenly, it is obvious that the same sized cushion support will not work for your entire sofa. To solve that too, this cushion support for couch is customizable. You can easily cut it to give it precise sizing.
Overall, this is an easy and money-saving option to restore the look and shape of your couch.
2. LAMINET Deluxe Extra Thick Sagging Sofa Support Insert – Best Couch Cushion Support Insert
For more than seventy years, Laminet has proved its competence in terms of producing outstanding home essentials. Although average boards are not strong and durable enough, the under cushion support for sofas by this brand can change your view on sofa supports.
This insert saves your shabby couches by providing them with essential support. It lifts up the cushions to get them back to their original size.
Whether the frame of your cushion is worn out or your frame is broken, this support can fix the problem. With its thick wood material, it gives the perfect amount of support to the overall body of your couch.
We understand how awful a shabby couch makes your living room look! To relieve you of that, this insert enhances the beauty of your couch by fixing its posture.
It strengthens the structure of your couch and elongates its life. Your couch stays safe from more damage.
Installing this support is so easy! Just lift your cushions up, slide the support insert under it and it will be ready to use.
This insert is an improved version that has been developed over the years with utmost care. And it has successfully performed ever since.
3. Evelots Couch Cushion Wood Support – Best Cushion Support for Couch Sofa or Loveseat
When you think your old sofa is unusable and you need to buy another one, think again! Because this seat support for couch can restore seemingly the most ruined couches and make them look as beautiful as new ones again!
This sofa support will save tons of your money by fixing your old furniture. They are really versatile products, these supports can be used for couches, as well as sofas, love chairs, recliners, etc.
The panels of these supports can be adjusted and customized. You can fold or unfold them before installing them to perfectly fit the size of your couch.
Using them is easy and the installation process takes only a few minutes. Just lift the seats and place the supports under them. The cushions will instantly become firmer and they will stay in shape for a long time.
This cushion support is convenient for daily use. The strong support provides comfort and prevents back pains and aches.
These wood supports may look simple, but these save your money and the hassle of getting a new couch by making your old ones new. So they are definitely life-savers!
4. XCEL 3 pack of Highly Versatile Foam Cushion Insert – Best Foam Insert for Sagging Couches
These products by Xcel are one of the best couch cushion support. They do a tremendous job at reviving the comfort and beauty of your old couches.
The materials are of high-density, making these inserts different than other foams. They serve you for a much longer time than the usual foams available in markets.
These inserts are perfect for longer sofas since you get 3 packs in one package. You can easily fix different parts of the couch according to the amount of them shagging.
Installing them doesn't require any tools other than your daily pair of scissors. They can be cut as easily as foams.
Before inserting these supports, measure your cushions carefully. Then cut the inserts as needed. It is better to first cut a bigger part of the inserts than the actual size of your cushions.
Then gradually cut more and adjust the size of your cushions. But cutting the inserts too small may cause you to waste them.
Another great thing about these supports for sofa cushions is that they are weather and water-resistant. They can be used on both indoor and outdoor furniture pieces. 
5. LAMINET Store Sagging Sofa Cushion Support Under Seat Cushion Support Board
These sofa cushion supports are best used on loveseats, but they can also be used on regular couches and sofas.
It doesn't matter if your cushions have started to sag or they are still new, the right cushion supports are necessary. If your couch is still new, the cushion support will ensure that it stays well for a long time. The inserts provide your cushions with extra support and make sure that they stay firm.
Don't worry if your cushions have sagged already either! These supports are great at fixing that too. They revive the original firmness of your cushions and improve their posture so that you can relax on your couch without facing any discomforts.
Installing these inserts doesn't require any skills or tools. Just unpack them and slide them under your couch cushions. They will start doing their job and serve you for years.
The vinyl-covered boards are easy to clean and maintain. When you want to take a break from using them, fold them and store them in any place you want. They can be wipe-cleaned.
All these features make this cushion supports the perfect companion to your couch.
6. Sagging Recliner Support Seat Cushion Repair Kit – Best Cushion Support for Reclining Furniture
If you are tired of those ugly sags in some or all places of your couches, sofas, recliners, etc, then this repair kit is what you need.
Getting a new couch simply because the older one has sagged is neither a wise nor an economic choice; especially when this kit makes it so easy to restore the comfort and look of your old sofa. Just clean up the cushion covers and insert the support, and your old sofa will turn into a completely new one!
They do not only restore old couches, but they also work to protect the new ones. Using them under your new sofas will ensure that they last a long time.
Installing them is pretty easy, although it does require some muscle strength. If the springs of your couch are stiff, it may require some energy to lift the cushions up. So it is better to install it with the help of others.
This support also extends the life of your couch by increasing the tension between springs.
With these cushion supports you get to enjoy all the features of a new couch spending less than half the amount of money! It undoubtedly is a great deal.
You May Like to Read: How to Keep Couch Cushions from Sliding
Things to Know Before Buying Cushion Support for Couch
There are several things to consider before buying cushion supports. Below are listed the important factors that you need to keep in mind.
Damage Type:
As previously mentioned, there are different factors behind the sagging of your couches. The repairing process also varies according to the cause. But almost all the problems are easy to fix.
When the frame gets broken, you need to use some cardboards or plywoods to complete the structure of your couch. So before ordering any repairing tools, you should first check the frames.
If the frame is alright but the foams are sagging, then get new foams or substitutes for foams. But remember, the quality of foams will make much difference to the comfort of your couch.
Lastly, if the springs are not working properly, get new springs. The installation process of springs may require special tools and skills, but it is still far inexpensive than getting new couches.
Measurements:
The size of cushion supports must fit the size of your cushions. It doesn't matter whether you put the supports under your cushions or inside them, if they are visible from the outside, then it will ruin the elegance of your couch.
That is why measure your couch and cushions before ordering any supports. If you're not sure about the size of the supports, get customizable ones. You can easily cut them and make them fit perfectly into your cushions.
Materials:
Everyone doesn't prefer to sit on the same kind of surface. Some like their couches to be a bit rigid, others want them to be soft. The rigidness or softness of your couch depends on the materials of the inserts. So, it is up to you what kind of inserts you will choose for your couch.
Usually, foams are much softer than batting. So if you want a softer surface, buy foams. The quality of foams also varies and impacts the overall comfort of your sofa. But batting is more durable than foams and they last longer.
FAQ's About Sagging Sofa Cushion Support
Why should I get cushion supports?
Cushion supports are helpful to both new and old couches. If you have an old couch that has started to sag, cushion supports can make them firmer again and protect them from further damages.
On the other hand, if your couch is still new, cushion supports will increase its durability. They will ensure the right posture to prevent back pain and other discomforts.
How to use cushion support inserts?
To use inserts, start by choosing and buying some good-quality foams or polyester fiberfill.
Once you've got the desired insert, unzip the cushion covers and bring out the old foams.
Now put the new inserts inside the covers. If they do not fit perfectly, cut them as required to give them the right measurement. When the correct size is achieved, put them inside the cushion covers and zip them.
What to put under sofa cushions for extra support? 
There are many cheap and widely available options that you can put under sofa cushions. Use cardboards, plywoods, or any lightweight wooden boards of this kind to support the overall structure of your couch.
How do I fix the worn-out springs of my couch? 
There are special tools and skills required to fix deteriorated springs. Usually, fixing them isn't enough to make your couch comfortable again. So you should consider getting new springs for your couch.
How can I prevent my couch cushions from sagging? 
To prevent the couch cushions from sagging, provide them with extra support such as putting cardboards or plywoods under them. Also, use good-quality foams or batting inside the cushion covers.
There are also a few things that you can do to elongate the life of your couch. Do not sleep on the couch! Sit on different parts of the couch after every while to ensure even load on different parts of it. Following these, you will increase the strength of your couch.
 Final Words
A piece of sagging furniture is unpleasant to the eyes and the rest of our body too. It ruins the elegance of your house and sitting on them disappoints us, instead of providing comfort.
To relax on your old couch again, get the best couch cushion support. It will immediately firm up your couch and change its look and the level of comfort too!
Good quality couch supports can make your year-old couch look as if they were just bought. The support these inserts provide isn't only good for your home décor, they also save you from health risks like back-pains, shoulder aches, etc. So getting the right cushion support is a must!