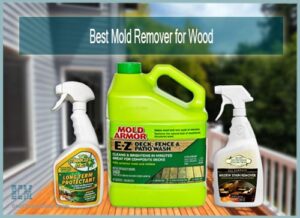 Mold is one of the worst nightmares of any homeowner. Not only does it look (and sometimes smell) unpleasant, but exposure to certain types of mold can also cause health problems. Worst of all, it spreads so easily!
Of all of the surfaces on which mold can grow, wood is perhaps the most susceptible. This is because, due to its composition, wood absorbs water more easily and quickly. So if your furniture or wooden deck is infected, it's a very big problem.
Tackling this problem might become difficult unless you have the best mold remover for wood at your disposal. So today, we'll be discussing 5 of the best ones on the market, along with a buying guide. Let's go!
Top 5 Best Mold Remover for Wood
In this day and age, removing mold from wood is a much easier task, thanks to the wide variety of cleaners available. Here are 5 of the best ones for you to choose from!
List of The Best Mold Cleaner for Wood
1. STAR BRITE Outdoor All Surface Mold Stain & Mildew Stain Remover Spray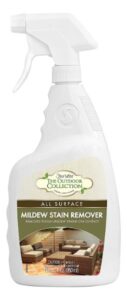 Our first pick in mold cleaners today is probably also the most popular. This large 32 oz container of mildew and mold stain cleaning spray is compatible with all surfaces, including wood. So if you're dealing with mold in more than one part of your home, this will appeal to you.
Equipped with a unique buffered formula, this spray is made to be gentle on a number of different surfaces without harming them. If you're contending with mold or mildew stains on wood, fiberglass, resin, or poly furniture, then you can expect this thing to get the job done.
That's thanks to the triple-strength formula this spray is equipped with. Using a combination of buffered bleach, surfactants, and chelating agents, this spray works instantly to do away with icky mold and mildew.
Using this spray is also super easy thanks to an efficient nozzle spray system with finger indents for an easy grasp. What's more, the infected surface does not have to be treated in any way before applying this solution; simply spray it on and wait for the stain to vanish. It's almost like magic!
---
2. Wet and Forget 800003 Moss Mold Mildew & Algae Stain Remover for All Surface
In some homes, particularly those located in moist or humid climates, mold and mildew are recurring problems. This can be a highly frustrating and time-consuming problem and one that might sometimes seem impossible to deal with.
If that sounds like you, worry not, because this wonderful solution from Wet and Forget is next on our list of reviews.
Formulated without any bleach or phosphates, this liquid mold cleaning formula is one of the easiest ways to get rid of recurring mildew, mold, algae, and lichen. Why do we say that? Because using this solution will not require any scrubbing or rinsing on your part. All you have to do is spray it on and walk away!
And you can do that without any worries about it damaging the surface beneath the mold because not only does it not contain phosphates or bleach, it's also non-acidic.
The formula of this solution targets the problem at a root level, working to gently rid your mildew or mold-infected surface of its contaminants. And the best part? It's even bio-degradable. Since this solution allows the user to prepare 3 gallons, it's obviously meant for long-term use.
Accordingly, we wouldn't necessarily recommend it if you're dealing with a more manageable case of mold and mildew. But since it's compatible with literally every kind of surface ever, we think this is a product worth keeping around, just in case!
---
3. Goo Gone Patio Furniture Cleaner – Best Mold Remover Spray for Wood Deck & Furniture
Not all cases of mold and mildew are intense and require heavy-duty action. Sometimes, you just wanna get rid of some annoying mildew stains and are looking for a gentler formula. In that case, this selection from Goo Gone will suit your needs just fine.
Formulated with care, this cleaning solution can be used worry-free on a number of surfaces, including wicker, resin, plastic, wood, vinyl, and metal, among many others. Whether you're dealing with mildew stains, dirt, or even pesky bird droppings, you can expect this spray to get rid of it quickly and easily.
Using it is quite easy, too; all you'll need is a microfiber cloth to wipe the surface down after application. All that being said, it's important to note that this spray will not get rid of mold, especially if it's a tough case.
Removing mold from wood requires a stronger solution. However, if you're simply dealing with stains, then you can count on this spray. And besides, who knows when you'll need to clean your outdoor furniture again?
---
4. Mold Armor FG51264 E-Z Deck and Fence Wash – Best Mold and Mildew Remover for Wood
If you're reading this article, chances are you came here to find a mold remover for wood decks that will not only banish the contaminant but keep it away. We understand that completely, which is why this offering from Mold Armor is next on our list. Here's what we love about it.
Washing and cleaning one's deck can be a time-consuming and oftentimes complicated process. Not with the Mold Armor E-Z Deck Wash. This solution does not require you to do any sort of scrubbing or mixing.
All you have to do is fill a garden sprayer with the solution, spray it on, then leave it for 10 minutes before rinsing. If you're dealing with annoying mold or mildew on your wooden deck, wood siding, or fencing, then we believe this is the perfect solution.
Not only does it eliminate mold, but it kills it off thoroughly and keeps it away for a longer time. What's more, it'll even fix discolored surfaces.
But it's not just wood that you can use this mold-killing wash on. Whether it's on stucco, brick, vinyl, aluminum, or even PVC (among many other surfaces), this thing will make short work of mold and mildew. And since it comes in such a large container, you'll be able to use it again and again.
---
5. EcoClean Solutions Mold, Mildew & Algae Remover for Wood & All Surfaces with Spray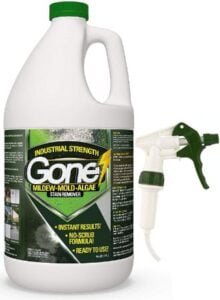 For our final pick today, we bring you a highly-rated mold cleaner from EcoClean Solutions. Compatible with all sorts of surfaces and materials, this mold killer brings you the desired results you need in a number of minutes.
So whether you were looking for a mold and mildew remover for wood or general-purpose use, this is a good match.
What we love most about this spray is its formula, which pretty much works like magic. It requires no scrubbing or rubbing on your part; your part in it is over once you've sprayed it and until it's time to rinse it off. And the best part is that it's perfectly suited for both outdoor and indoor use.
That's right. Whether it's your wooden deck or bathroom tiles that have been infected with mold, this solution is strong enough to deal with it all. That being said, it's not the safest chemical out there, so we recommend taking safety measures before using it. Otherwise, it's pretty easy to see how this thing got so popular!
---

What to Look for When Buying Mold Killer for Wood 
What's the best mold killer for the job? The answer to that question depends upon the mold type and intensity. So before you make your purchase, consider the following factors.
Type of Mold
Before you get to cleaning, it's important to note what kind of mold is growing in your home. As you may already know, the three main types of mold are distinguishable by their color: mold can be either white, green, or black.
Of these, black (Cladosporium/aspergillus/Alternaria) is perhaps the most dangerous. If you're dealing with black mold, then it might be a better idea to enlist the help of a professional. However, if the amount of mold is relatively low, you can get away with just using a cleaner.
In the case of white and green molds (i.e., Penicillium or Cladosporium), low-to-mid strength cleaners will usually do the job. However, once again, it depends on the intensity of the problem. If you're dealing with a large surface area of mold, then a higher strength cleaner might be a better option for you.
Mold Location
The place in your home or office where the mold is growing determines, to an extent, the right way to deal with it. If you notice mold on fabric, such as curtains or upholstery, you'll need to look for a mold cleaner that is safe to use in the washing machine.
When dealing with more accessible wooden surfaces, e.g., a backyard table, a mold remover spray for wood will usually do the job.
If you notice mold in a difficult-to-reach corner such as under your kitchen cabinet, it might be a better idea to call for professional help. On the other hand, if the mold is on wooden furniture or a wooden deck, you might need something more heavy-duty.
Efficiency
As with all cleaning products, mold removers also come in varying levels of efficiency. While some removers work relatively fast and don't require much help, others might need to be reapplied at regular intervals.
On that note, you will also find some cleaners which require the user to brush off the loose mold before application. Be careful to read the specifications clearly, so that you're ready to invest the required amount of time and effort.
Application Method
Mold killers come in a variety of forms according to their intended purpose. While the majority are sold as spray bottles, you will find others that require a bit more effort on your part. For example, some mold cleaners have separate components that have to be treated and/or mixed before application.
Some mold cleaners can also be applied in multiple ways; beyond spraying, these can also be used with a sponge, mop, or brush. Some high-intensity cleaners have to be attached to the end of a hose for proper application, e.g., for when you're cleaning mold off of a deck.
Safety of Use
Mold killing solutions, like all chemicals, carry a certain level of health hazard. Accordingly, it's important to do your research into the safety of using the product before buying it. For this, it's a good idea to look into existing reviews of the product or look up the active ingredients.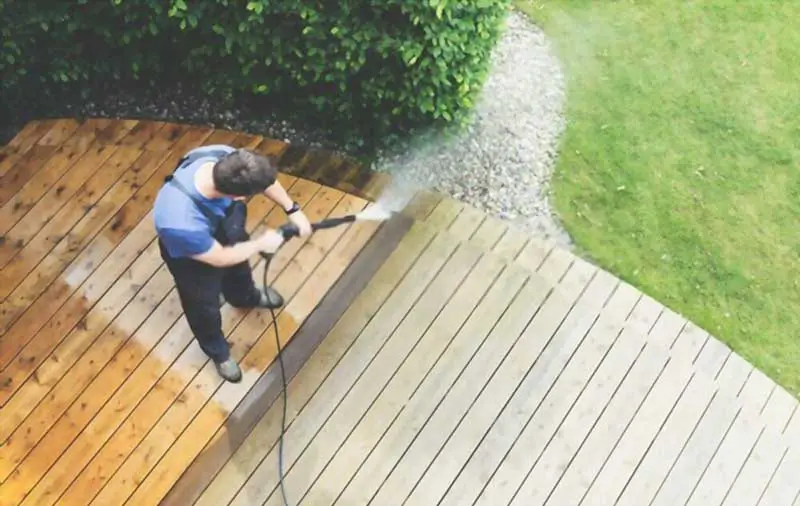 FAQ's about Mold Cleaners For Wood
Here we have the most commonly asked queries regarding the best mold removers:
1. What kills black mold on wood?
Use a solution of equal parts baking soda and white vinegar in a spray bottle to clean the area. After wiping that way, use a mold cleaner for wood according to the manufacturer's instructions.
2. What safety measures should be taken while cleaning mold?
First of all, put on some gloves and a mask. Then, ensure that the room you're working in is properly ventilated (if not, then you can equip a standalone exhaust fan). If you're working in a large space, seal off the doorway or other entry points.
3. How can I prevent mold from returning to my home?
Mold grows in areas with high moisture, so it's important to keep your home as dry as possible. Regularly wash components such as shower curtains with mold killers. Quickly repair any leaks you notice.
4. What are the symptoms of the sickness caused by mold?
If you notice allergy symptoms such as a runny nose, sore throat, sneezing, or coughing, it might be caused by mold. You might also experience headaches.
5. What is the best mold removal products on a budget?
The Mold Armor E-Z Deck and Fence Wash promise to give you a bang for your buck with a super-strong yet affordable solution.
Final Words
No matter how well protected, every home is susceptible to the threat of mold. Those guys are literally in the air we breathe! However, with the best mold killer for wood or other surfaces, we can at least try to keep the problem at bay.
We hope that our selections have helped you find the right fit for yourself. Good luck. Mold begone!