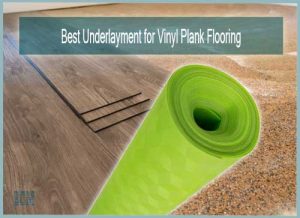 There are a gazillion different choices you have to make when building a home of your own. When it comes to flooring, vinyl can be a great affordable option.
But choosing the right flooring will not give you the best results by itself; you have to take note of the underlayment too for installing the vinyl floor.
I created this article to help you find the best underlayment for vinyl plank flooring. The right underlayment will not only create a great base for your flooring to go on, but it will also provide certain benefits. I will discuss these specific features in the reviews and provide some additional information.
Without further ado, let's begin!
Best Type of Underlayment for Vinyl Plank Flooring
The material of vinyl plank flooring is quite resilient, so you really do not require much help from the underlayment. It is affordable, moisture-resistant, and also scratch-resistant.
When it comes to the underlayment, the types of vinyl plank floorings vary, and so do their underlayment requirement. Here is the best type of underlayment for each different type –
Felt, Foam, Or Cork Underlayment for SPC Vinyl Plank
The core of SPCs (Stone-Plastic Composite), as you may guess from the name, have stone powder mixed in. This provides durability but at the cost of thickness. As the stone powder has to be mixed in, these planks cannot be made too thick. Moreover, they do not feel very comfortable on their feet due to their robustness.
For SPC, you should get felt, foam, or cork underlayment. Softer underlayment pairs are better with this type of flooring.
Thin Underlayment for WPC Vinyl Plank
WPC Vinyl Plank (Wood-Plastic Composite) is similar to SPC, but instead of stone powder, ultra fine powdered wood is mixed inside the core. As a result, they are not as hardy as SPC flooring, but the softness is not a bad thing. It is more comfortable to walk on.
This type of flooring is comfortable, with a natural feel that has more bounce. They also tend to be thick. Because of that, thin underlayment pairs best with WPC. Try to find 1 mm underlayment for WPC planks.
Plywood Underlayment for Pure Vinyl Plank
You can also find vinyl planks that do not have any mix-ins in their core. The core is made of vinyl foam, which is neither as robust as SPC cores nor as comfortable as WPC cores.
For this type of vinyl plank, you need more specific underlayment meant to be used with pure vinyl planks. Consider getting plywood underlayment for added durability.
How Thick Should Underlayment Be for Vinyl Flooring
For vinyl flooring, you do not require as thick of underlayment as you would for other types of flooring. Usually, underlayment for vinyl sheet flooring has a thickness in the range of 1 to 1.5 millimeters. It is the same for other types of vinyl flooring, too.
Top 8 Best Underlayment for Vinyl Plank Flooring Reviews
We have researched many products in the market to find the best ones for our readers. Here are our reviews and details of the 8 top products we have found –
1. QuietWalk Plus Underlayment for Hardwood, Laminate, and Vinyl Plank Flooring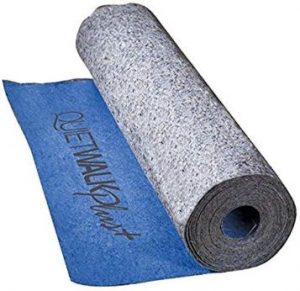 As you can guess from the name, this underlayment is built to make your flooring very quiet. The recycled fibers used to make this underlayment absorb any sound produced on the flooring, thus stopping them from traveling to other rooms.
Plank flooring can end up causing a lot of noise when walked on, so this is an important feature. Even floating flooring sound solid with this underlayment.
This product is also versatile, so you can use it with many different kinds of vinyl planks – laminate, nail-down, floating, and glue-down.
It is also a great underlayment for vinyl plank flooring on concrete. The recycled fibers absorb moisture, allowing the concrete to breathe. No moisture build up will occur, thanks to the vapor barrier.
We also liked that this is a clean product – no volatile organic compounds or gas will escape the underlayment. So, your home environment will be safe.
Feature Highlights
Compatible Flooring: Laminate, Nail Down, Floating, Glue Down
Recycled fibers infused for sound absorption
Dense build for better support and compression resistance
Easy roll-out installation
Even heat permeation
Manages excess moisture and protects flooring with vapor barrier
Coverage: 100 sq. feet
Thickness: Around 3 millimeters
Downside
Cutting is difficult
Some users believe that it should have been more quiet
Verdict
An all-rounder product that will do everything you'd want from an underlayment and more – QuietWalk gets an A from us in every area – unless you need something that cuts well.
Read: The Best Underlayment for Laminate Flooring on Concrete
---
2. Floorlot LVT Luxury Vinyl Tile & Plank Flooring Underlayment with Double Vapor Barrier
The main differentiator of this product is its 2 times moisture barrier, which provides twice the amount of moisture protection. It is a huge plus for humid areas because moisture can really do a number on your planks if left untreated.
We're confident this is the best waterproof underlayment for vinyl plank flooring. If your subflooring is not the most even, this underlayment will actually conceal subtle irregularities, creating a smooth surface for your vinyl planks to go on.
This underlayment is also one of the easiest to install. You can cut through it easily. It has gridlines printed on top for easier measurement. With the peel and stick tape, the installation gets even easier.
Luxury vinyl tiles can be tricky to work with. This product is 1 millimeter thick, making it the perfect item for not just LVT but also other types of vinyl flooring.
Feature Highlights
2 times moisture protection
Thickness: 1 millimeter
Easy installation with seam tape and printed grids
Smoothens out subtle subfloor irregularities
Compatibility: WPC, LVT, SPC vinyl planks
Coverage: 200 sq. feet
Thickness: 1 millimeter
Downside
Prone to easily getting cut when in contact with vinyl plank edges
Not the best adhesion
Verdict
For humid areas where moisture is the biggest issue, underlayment cannot get better than this. Get this Floorlot, and you can say goodbye to moist planks!
---
3. QW360LV QuietWalk Luxury Vinyl Acoustical Flooring Underlayment, Sound-Moisture Resistant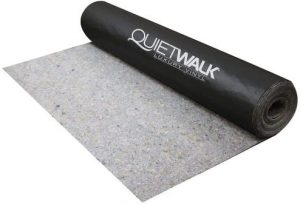 Floating as well as glue down flooring is tricky to install perfectly. This is why you need the best underlayment for glue down vinyl plank flooring. With the perfect match, there will be no unevenness, unnecessary sounds, or imperfect installation. And this product does just that!
This one has received exceptional sound ratings for preventing footfall and through-the-floor noise. Noises can be a big complaint with glue down floors. With 28 delta IIC rating, it has got you covered. The rating is a testament to how great this product is at preventing sound from traveling to other rooms.
We were also impressed with the Dri-Wick technology, which uses a blend of different fibers to dissipate moisture, allowing the subfloor underneath to breathe. Without that, water droplets may eventually form on concrete subfloors, which causes trouble. So, don't worry about moisture build-ups.
It is also antimicrobial, which means mildew and mold cannot grow on it, no matter how humid the environment is.
Feature Highlights
Compatibility: Luxury floating & glue down flooring
Greater acoustical tune reflection
Built-in thermal insulation compatible with QuietWarmth
Moisture repellant Dri-Wick material
Built from moisture resistant recycled materials, environmentally friendly
Coverage: 360 sq. feet
Downside
No significant cons found
Verdict
With exceptional sound absorption, Dri-Wick technology to dissipate moisture, and specialized design, this underlayment is the perfect item to get for glue down and floating floorings.
---
4. STEICO Wood Fiber Flooring Underlayment for Laminate, Vinyl, LVT, LVP Hardwood Floor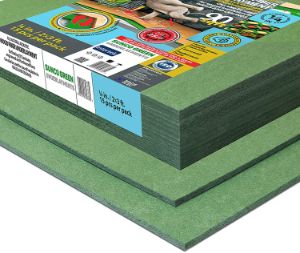 Steico has specialized this product to be the ultimate acoustic improving wood underlayment for vinyl flooring that will ensure that all sounds created on the floor remain contained. It has a delta IIC rating of 25, and almost everyone who tried this for its sound masking abilities has raved about it.
The stand-out feature of this product is the material it is made of – pure wood, fiber. Steico uses innovative engineering to utilized wood's various natural properties, such as first-class heat insulation, excellent hardiness, breathing 'vapor open' feature, etc.
As a result, this underlayment is an affordable option that has high-temperature storage, sound insulation, and little thermal conductivity, all in a very thin frame. In other words, it is great for vinyl planks.
The wood is also flexible, which helps it cover up minute unevenness or irregularities on concrete subfloors. At the same time, it is rigid on top, creating the perfect balance of strength and softness for concrete subfloors and vinyl plank floorings.
Feature Highlights
Acoustic enhancing properties and high sound control
No volatile organic compound or poisonous emissions
Material: Pure wood fiber
High compression rigidity to protect 'click-lock floors
'Vapor open' technology to prevent moisture accumulation
Coverage: 180 sq. feet
Thickness: 6 millimeters
Downside
Tough to cut though
Installing it diagonally is a challenge
Prone to breaking off if uncareful
Verdict
Here is a product that is hands-down the best acoustic underlayment for vinyl plank flooring. This is the perfect product for floors that just won't stop making noises!
---
5. AMERIQUE 4th Generation Luxury Platinum 3-in-1 Flooring Underlayment Padding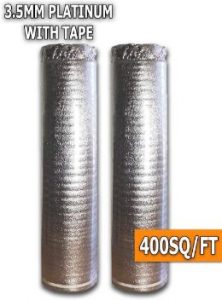 Amerique makes mid-tier, slightly premium products. This one is no exception, as it is made with Amerique's 4th gen luxury platinum design.
Usually, thin underlayment is recommended for vinyl planks. If for some reason, you do need thicker ones, the options get limited as usually thick underlayment does not suit vinyl planks well. This product is an exception, as you can make it work just fine with your vinyl plank flooring.
The self-sticking adhesive it comes with is great. It adheres to the subfloor really well. Poor quality adhesives make installation a pain, so we are happy to report that will not be an issue here.
This thing will easily last you a really long time, as the body utilizes anti-crush technology to stay in shape for a longer period. Did we also mention that it is the best vapor barrier underlayment for vinyl plank flooring?
Feature Highlights
Heavy-duty 3 in 1 foam build
Anti-crush technology for a longer lifespan
Self-sticking tape for ease of installation
Compatibility: Bamboo, vinyl, laminate, hardwood, floating, and wick flooring
Coverage: 400 sq. feet
Thickness: 3.5 millimeters
Downside
The thickness might be too much for some vinyl planks
The foam is not as dense as some higher-end counterparts
Verdict
This is a great thicker option for those who require a thick underlayment for vinyl planks. It contains all the good features – vapor barrier, rigidity, sound insulation, etc. – in a premium thicker frame.
---
6. Bestlaminate 3in1 Vinyl Flooring Underlayment – High Density IXPE Vapor Barrier Padding
This model from Bestlaminate is a mix of convenience and toughness. With its protection from vapor barrier and soundproofing capabilities, this one is sure to make it to your shortlist.
For the user's enjoyment, the vinyl is only a millimeter thick and comes with a pattern. The rolls are stacked separately, which measure at 100 sq. ft. Installing this is a breeze, and the price is amazing too. Just cut it and lay it over your floor, end of problems.
Also, the sound absorption is pretty impressive, considering the thickness is only 1 mm. This is possible due to the incredibly dense IXPE build of this underlayment. The dense build also offers microbe protection.
The 3-in-1 feature provides cushioning in one layer, vapor barrier in one layer, and sound absorption in one layer. The only thing it is truly missing is heat insulation, which is not a requirement for everyone.
Offering such quality at such an affordable range makes the product stand out even more.
Feature Highlights
High-density build
3 in 1 sound barrier, vapor barrier, and cushion construction
IIC 69 and STC 67 ratings for sound absorption
Compatibility: Glue-less vinyl plank
Color: Lime green
Extremely affordable
Coverage: 100 sq. feet
Thickness: 1 millimeter
Downside
May require some clean up around the edges
Verdict
Undoubtedly, this is the best soundproof underlayment for vinyl plank flooring at a budget we have come across. Nothing can beat the performance at this price point.
---
7. Bestlaminate Standard Flooring Underlayment for Vinyl Plank Flooring on Wood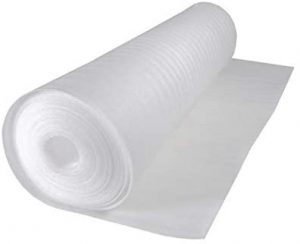 When you are getting an underlayment, just taking the flooring material into consideration is not enough. The requirements of underlayment for a wooden subfloor must also be thought out.
Wooden subfloors require an underlayment that can protect them from moisture, which is the main reason for them to warp. They are also more prone to making sounds, which is why proper sound insulation is a must. You will get both of these qualities in this product, as it was specifically made to go on top of the wood.
Thermal insulation is another aspect that is important when it comes to wood. Generally, wood can take heat well, but additional help is good to have. Again, this underlayment will insulate heat well while also making it comfortable to walk.
And the best part? You will get all of these amazing features at an unbelievably affordable price. Bestlaminate always makes well-valued items, and this one is no different.
Feature Highlights
Compatibility: Wood subfloor, floating flooring
Economical and practical
Resists static electricity
Thickness: 2 millimeter
Coverage: 100 sq. feet
Downside
No significant downside found
Verdict
Here is another extremely affordable underlayment for vinyl plank flooring on wood subfloors. It matches the requirements for wood subfloors perfectly, so it is a must-have if your subfloor is of wood.
---
8. Floor Muffler LVT Ultraseal 1mm Underlayment for Luxury Vinyl Tile and Plank Floating Floors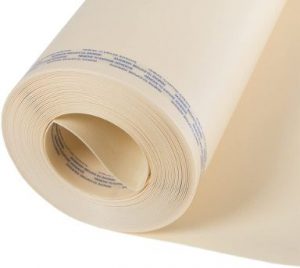 At last, we have another item that can conceal sounds like nobody's business. As the name suggests, Floor Muffler excels at muffling down any sound you may create when walking on a floating vinyl plank floor, which is common for this type of flooring.
With an IIC rating of 71 dB and STC rating of 66 dB, this product is guaranteed to conceal any and all sounds made on the floor. It is the perfect match for luxury vinyl tile and floating plank flooring.
Also, it can support both cement and wood subfloors. Versatility is always appreciated, as it gives you more options. Another great feature is that this item is 100 percent recyclable.
Installation is easy with the self-sealing tape because no additional adhesive is necessary. However, keep a lookout for static electricity when installing, as it may attract a lot of dust because of it.
Feature Highlights
Compatibility: Cement and wood subfloors, plank floating, and luxury vinyl flooring
Effectively reduces foot-fall sound
Easy installation with self-sealing and tape mechanism
IIC 71 dB rating and 66 dB STC rating
Fully recyclable
Coverage: 100 sq. feet
Thickness: 1 millimeter
Downside
Installation in small areas is tough
Gathers a lot of static electricity, attracting dust and dirt
Verdict
You can stop irritating your neighbors downstairs with this Floor Muffler that can effectively muffle foot-fall sound. Add environmental friendliness and easy installation to the mix, and we're sold!
Things to Consider When Buying Vinyl Flooring Underlayment
In this section, we will highlight a few aspects that should be kept in mind when you are shopping for underlayment for vinyl plank flooring. These factors will help you choose best rated underlayment for vinyl plank flooring.
Subfloor Compatibility
Depending on the type of subfloor you have, your requirements for underlayment will change. For example, concrete lets in moisture easily, so it needs underlayment that can absorb the moisture. Wood subfloor also requires underlayment that can prevent vapor build-up, as it may cause the wood to warp.
The location of the subfloor matters, too. If you are not on the ground floor, get something that will cancel out noise so as not to disturb your downstairs neighbors. For the ground floor, vapor protection is a must from the underlayment.
Flooring Compatibility
We have already discussed the type of underlayment you should get for different types of vinyl plank flooring. As vinyl planks utilize a click and lock setting, the underlayment should provide enough support to the joints. Also, thick underlayment is generally not a good option for glue down vinyl planks.
Material
Different materials have different benefits and shortcomings. You should consider what you want from the underlayment and choose the material that meets that standard the best. The common underlayment materials are –
These are the industry standards and the most affordable kind of underlayment. They are soft, making the floor more comfortable to walk on. However, they do not provide any protection from excess vapor, so stay clear of them is moisture is an issue.
Corks are great at concealing minor irregularities on the subfloor. They are also good for protection against mold. However, cork is not recommended for vinyl plank flooring. Also, they struggle if there is a lot of moisture.
This underlayment consists of two layers – one provides padding, making it more comfortable. The other is a vapor barrier for protection against humidity. This is basically the best of both worlds.
As you can guess, this one consists of three layers – one for cushioning, one for vapor protection, and one for sound concealing. This is perfect if you need help with both noise and moisture.
Felt is a great insulator, and therefore, will keep your rooms warm during colder days. They also absorb sound well. However, as they are denser than foam, you will not get the same level of comfort.
This is the best material for combatting moisture. However, it is not the most rigid, so you will not get much support. Beware of this if you have heavy furniture.
FAQ's About Vinyl Flooring Underlayment
Why should I get vinyl underlayment?
An underlayment, while not always needed, can smooth out minor imperfections, make the floor more comfortable, add thermal insulation, absorb noise, and dissipate trapped moisture. This is why you should consider getting them unless the manufacturer of the flooring suggests not getting any.
Which underlayment material is best for absorbing sound?
Felt and cork are great materials that conceal noise well. Among them, felt is thermally insulating but does not feel very comfortable. On the other hand, cork is good at dealing with mold and mildew, but it does not fare the best with excess moisture.
How do luxury vinyl planks (LVP) and luxury vinyl tiles (LVT) vary?
LVP comes in a plank shape and mimics the look of real wooden planks. LVT comes in a tile shape and mimics the look of a stone floor. So, the difference lies in size and looks.
What do STC, IIC, and R-value indicate?
STC value indicates how good underlayment is at absorbing ambient noise, such as TV, talking, etc. IIC indicates how good it is at absorbing sounds caused by impact, such as walking, stomping, jumping, etc. R-value indicates heat insulation.
Conclusion
As you have seen, picking out the best underlayment for vinyl plank flooring is not a piece of cake. It takes a lot of consideration, careful planning, and research. We hope this article has been able to aid you in the process, as that was our goal when we started researching for it.
Going the extra mile when finding an underlayment is worth it, so don't take it lightly.