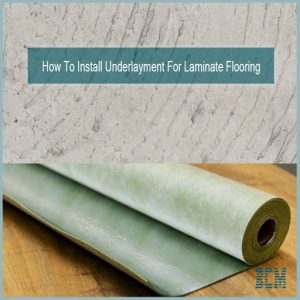 You may explore "around the world in 80 days", but the place that echoes in your heart over and over again is your home. People love to decorate their homes. The best décor of a home is the people who live in. However, we live in a materialistic world. Have a look at your home and you will realize that floor is the foundation on which our beloved home stands.
And, flooring materials can be of various types. One of the types is laminated flooring and it became popular due to easy installation, maintenance, attractivity, and functionality. By this write-up, I tried to shed some light on how to install underlayment for laminate flooring on concrete.
Do You Need Underlay For Laminate Flooring On Concrete?
Before unrolling the underlayment, allow me to explain why you need an underlay for laminate flooring on concrete. Well, underlayment is a piece of cushioning. It is made of plastic/foam/rubber/sponge, often called a 'padding'.
Underlayment for laminate flooring is mandatory. Because laminate flooring is a floating one that must be uniformly dispersed over the subfloor. Underlayment enables the floor to float ideally & confirms proper stability. In addition to that, underlayment provides comfortable walking. It is much recommended to ensure insulation against moisture, sound, and heat.
Pro Guide For Installing Underlay For Laminate Flooring Over Concrete
Step 01: Choosing the Correct Underlay
Many of us are worried about the color and beauty of the laminate flooring and forget about choosing the correct underlay. Choosing the correct & proper underlay for laminate flooring mostly depends on the material of the subfloor.
As we all know, there is an enmity between concrete and moisture. So, for the concrete subfloor, you should choose a vapor underlayment. This can be of various types such as 2 in 1 vapor underlay, 3 in 1 vapor underlay etc. Felt underlay, cork underlay, or anti-sound underlay are also found in the market.
Step 02: Prerequisites for Installation
Assuming that the concrete flooring is strong enough to support the underlayment for laminate flooring installation system, let's start the job. Get ready with the underlay, laminate flooring, level, knife-scissors-tape. A concrete grinder and moisture test kit can be handy as well. Give special consideration to control the climate for 2 days at least.
Maintain room temperature at a minimum of 65 degrees Fahrenheit and ensure that relative humidity is not more than 65%. The concrete flooring should be at least 1 month old for this process. You can use calcium chloride for moisture testing of concrete.
Step 03: Measure the Room
You need to measure the length and width of the room to determine the actual amount of underlayment needed to cover the whole room. You can precisely measure the room with a measuring tape.
After obtaining the width and length of the room, input them in a roll insulation calculator. This calculator will give you a clear idea about the actual amount of underlayment needed based on the length and width of the room.
Most of the rolls of the market cover only 100 sq.ft area. If the measurement says that you need more then 100 sq.ft of insulation, you should buy 2 rolls.
Step 04: Prepare the Working Surface
For underlayment installation, cleaning the concrete base cautiously is the first thing to do. Make your concrete surface smooth and tidy. If you are going to replace your old floor with laminate flooring, Clean and remove the flooring debris, wax, paint, oil, and seals left by old floor. Also, remove any sort of heavy cement burnishing. Keep in mind, the floor should not be slick. Using grinder will make the floor a bit rough. But be careful not to make any crack in the floor.
After the cleaning, you will need some leveling. Leveling can be done with a long level or tape in a manner like 3.16 inch uniformed within every 10 feet. Use the grinder to remove any high spots. You can fill the low spots with a cement-based leveling mixture.
Examine the moisture level with the moisture test kit (if possible). If the moisture appears off from the manufacturer's instruction, it needs to be lessened.
Step 05: Unrolling The Underlayment
As we all know, underlayment comes in rolls. Don't unroll all at once rather start with one row to keep the working surface decent and easy for working. Lay it opposite to the direction you will be installing the flooring planks. I mean, if you are going to install the laminate flooring vertically then insert the underlayment horizontally. This is to avoid the flooring and underlayment seams lining up with each other.
Step 06:  Place the Underlayment Carefully
Start placing the underlayment from the corner of a room. Remember, your underlayments should not overlap each other. So, tape consecutive rows together without overlapping.
Don't be in a hurry. Keep calm and install until you cover the concrete base completely. Remind yourself the saying, slow and steady wins the race while installing underlay for laminate flooring over concrete. Cut off extra portions of the underlay or tape them with the wall.
After that, you need to fix the uneven part of the corner. You should press corner's insulation so that it leaves a crease. Cut the middle of the folded part with scissors and insert the right part of the underlay under the left part.
While finishing the process, You must check whether any part of the underlay is cut or mistakenly you may damaged any small part of the underlay while laying it. To deal with this type of mistakes, you can use a masking tape or underlayment tape.
Install the Floor Simultaneously!
You are done with your underlayment installation. Hope your laminated floor planks are ready to be installed! Work section by section & start installing the floor planks simultaneously. You may dive here and read my another article to know the detailed process of laminate flooring installation.
Long Story Short
Although, there are debates on some issues like – if there is underlayment attached with laminate flooring, do we need to install an additional one? Or, do we need to install an additional vapor barrier?
In such cases, you can do your research or take professional help. In general, we can conclude with this: Installing underlayment for laminate flooring on concrete is not so complicated and you can save some bucks (let's say 500 – 700 dollars for a 500 sq feet laminate flooring job)!
Sound's cool, right? Hope you learned everything of how to install underlayment for laminate flooring on concrete.