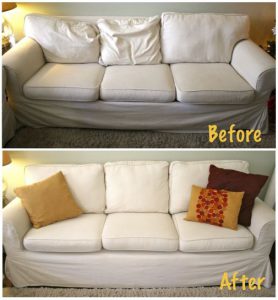 Isn't it annoying when the cushion disagrees to stay still on that one position over your couch? You are constantly putting it back in place but for some reason, it keeps slipping.
That's' it! Now you can't deal with it anymore. And so, you frustratingly look for solutions online.
Well, I know the pain since once my drawing-room was a nightmare for me to enter. Because I would always find my cushions, not in place, which used to frustrate the deco freak inside me.
And so, I've been on the mission of looking for possible solutions on how to keep couch cushions from sliding.
Hacks to Keep Cushions on Couch: 5 Effective Ways to Stop Sliding
When cushions are not in place, it could give a really messy look to the overall room. There are more than a few hacks to keep cushions on couch. I'll share some of the go-to ones below to stop couch cushions from sliding.
Using Velcro Strips
Now due to the design and fabric style of several sofas, you can notice that these don't really work well for keeping cushion in place. Once you decide to sit on it, the cushions are moving dramatically. Especially the bottom cushions. And so, you need to try a very simple trick. Using Velcro strips…
Velcro strips are a pretty fantastic thing that can help you to keep those bottom cushions stay in place over the couch without investing or stressing too much. Simply use one or two of these strips that would be enough to hold one huge cushion in its place. And there will be no moving around to make your sofa or couch look messy.
If you don't want to buy specific cushion Velcro strips, go for DIYing. Just cut long Velcro strip into several pieces for cushions. You can use around ten to fifteen centimeters of Velcro strip for each cushion. Attach these into the cushion's back part. This is basically the portion that stays lines up with back of the sofa. The vertical one! You want to use some thread for this.
If there are smaller cushions, one strip should be enough. However, for wider ones, go for two. The second set of Velcro strip should be placed into your sofa's rear side accordingly. The line should match with one on cushions.
Also, you want to ensure that the attachment of Velcro strips is fixed to each cushion's back. Not on the underside part. Attaching them to the cushion's base will obstacle you from reversing them without keeping Velcro strip hidden.
Using Non-slip Rubber Pads
Now some people will not really like the idea of sewing Velcro strip to their expensive cushions. Because maybe the fabric will look flimsy after causing such alteration. Or anything might be the reason. For such folks, I have another idea. You can use non-slip rubber pads restricting the cushion's movement. Using these are also pretty simple and convenient.
Also, the non-slip pads are pretty much cheap. These are super simple to install into cushions as well. In case there's a need to remove for a new sofa cushion or simply flip out from the sofa, rubber pads will work well in such situations.
Usually, with non-slip pads, you will notice the rear side holds some adhesive in it. So that attaching with sofa fabric is simple and stress-free. Small threads are noticeable in pads. So that digging into the cushion while keeping them in place seems easier. And it does not matter how many times you decide to sit on them. They would stay pretty gripped in any way.
You can easily move fabric items, rags, covers, coasters with rubber pads. There will be no movement at all by using one or two pads at every corner of almost anything.
The Ring & Clip Formula
No matter what type of cushion you need to deal with, there's one formula that works for all. It does a fantastic job of holding both throw and bottom cushions in place. For the method, you need a tiny piece of fabric. Simply sew it onto the sofa. Now use another piece for the cushion.
Get a ring and hook combo. You want to add the ring in one fabric part and hook it to another. Now you have a mechanism to hook each cushion into the sofa. And there will be no moving out from place ever again. Also, due to using sewing for keeping the fabric attached with both couch and sofa, you can easily remove them when there's no need anymore.
Even if this method is a bit time consuming and complicated, it's perfect for side and throw cushions. This will give those pillows a sharp look for all time by keeping them away from moving around.

Using Shelf Liner
Shelf liner is basically plastic-like. These are pretty much weave and flexible type of material. You can easily purchase some from any dollar store or kitchen supplier shop in your locality. There will be a lot of options to go for different colors and width. So, you can match with the cushion or sofa easily. Depending on the area you'll need and total number of pieces simply cut shelf liner.
To make sure the cushions stay on its place well, you should try cutting it into different sizes and length. Cut them into strips if possible, then simply place them around the middle section.
You can also put them on an outer area or even a full section of the cushion. No matter what surface you chose to place them, these would work pretty well. They do good on both wooden and manufactured frames, so plus point…
Mats That Don't Slip
You'll be able to buy non-slip mats for the final method. These are pretty much common to find in carpet or rug selling stores both online and offline. There are even furniture stores that sell these. The mats with their non-smooth function help to keep rings on the place without moving around in case of slippery surface. Depending on the sofa length you already own, get rag accordingly.
Start by taking cushion out and measure length of the sofa. You want to compare the length with purchased mat next. Anything that comes extra in the mat should be cut off. Now using a vacuum, simply clean out any dust or debris locating under the sofa cushions. So that the non-slip mat can have a stronger grip to function well.
Now simply place the mat over your couch. You want to press down using your hand. This is to get rid of any lumps or bumps from it. Just place the cushions over this non-slip mat
Bottom Line

See? It's super simple once you take the effort of learning how to keep couch cushions from sliding. Now use any of these five techniques for your couch cushions to keep them in place. I'm sure at least one of these will fit into your particular situation.
Keeping cushions in place is a part of the decoration. And nobody would like to miss that out just because of something as trivial as slipping cushions.
I hope you enjoyed this article. You should read another article – Best Lumbar Support Cushion for Office Chair