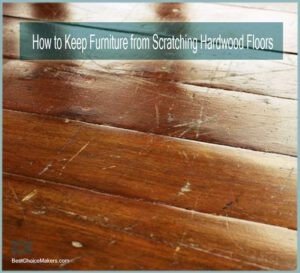 Nobody loves to have a floor covered with unsightly scratch marks, especially when it's an expensive hardwood one. There could be so many reasons why you are getting those scratches and one major reason could be your home furniture. And if you don't take these concerns seriously, you'll end up getting more ugly spots eventually.
So, let's get things together by learning how to keep furniture from scratching hardwood floors.
6 Pro Tips on How to Protect Hardwood Floors from Furniture
Let's talk about some common tips that work best for preventing scratches and spots on hardwood flooring due to furniture.
The Dragging Game Needs to Stop
I'm sure most of us are already guilty of many poor habits that eventually causes these ugly strokes. And one very common error is dragging or pushing furniture across your hardwood floor for redecorating.
You might be absolutely impatient to wait for someone to come and help with those moving stuff tasks. And so, you end up dragging or pushing it. That's super risky and surely will scuff up your hardwood floor.
And so, you must resist the urge to push or drag furniture and wait for a buddy to help pick them up off floor. Also, you can simply slip in a sock over each leg of your furniture. Your regular wearing old socks will work just fine.
This is a quick and economical fix that you can try while trying a new furniture arrangement. And there will be no blemishes once you are done with changing the layout. You can use a rubber band after cladding the sock around the furniture leg. So that it does not come off when you move the furniture.
Also, if you are okay with spending a very little amount for a more permanent and robust fix, then get this brilliant tool called furniture slider. These are super convenient, affordable and a total saver for hardwood floorings.
Preserving the Floor by Covering It
Another super easy point that we all miss but is actually very simple in terms of protecting hardwood floors is using area rugs. You simply place the furniture over a rug. And that will simply take all your worries regarding any future scratch or damage.
At the same time, this simple trick will also help in persevering your hardwood floor. And my most favorite part about this whole idea is that it also a smart way of adding some style to a room. You can try colorful patterns or monochrome looking rugs to enhance décor plus protect the flooring.
Pads, Your Best Buddy to Protect Hardwood Floors from Furniture!
Pads are a great solution to your whole furniture moving and placing worries on hardwood floors. There are a whole lot of options to try for this furniture pad concept. These are super-efficient at providing extra cushion to furniture feet and corners. Also, you find it relatively easy to raise furniture above the floor.
There are several materials used to make pads. Commonly people use felt, cork, or rubber made ones. If you need to frequently move furniture then go for felt pads. Also, these work best for chairs and avoids scratches. Even when accidentally it shifts while people sitting down or standing up.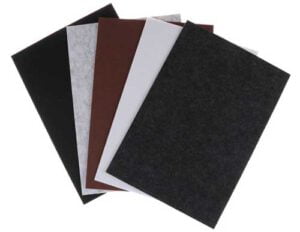 Tap-on or nail-on pads are super simple to put by using tiny nail or screw. These are secure and super convenient. Just make sure you properly install nails without being exposed and causing damage ruining the whole purpose.
If you use the adhesive pads then replace them after a certain period. These can get worn out of adhesive. So, it's basic maintenance you need to keep up with.
The soft plastic or rubber made slip-on pads are usually great as a solution. These are not going to fall off like adhesive pads. Also, there's less chance of improper installation-related damages like the nail-on pads.
You can also try your craft skills to make some pads yourself. Simply use blankets, old clothes, or any soft material from your house. You can turn them into makeshift pads by taking some simple measurements. Old carpet, felt, Velcro, and towels are also great sources to use for creating these DIY furniture pads.
Check Every Now and Then
You should always have a certain timetable in your mind decided to check the legs of furniture. There can be debris and worn-out materials beneath. Keeping these areas clean is surely effective and a simple step towards causing less damage to your hardwood floor.
You can also try lights sanding occasionally. A regular sandpaper sheet or even the palm tool will work. These are going to help you a lot in the long run for avoiding floor scuffs.
Wheels & Coasters Can Help!
Having furniture with wheels will make it a lot easier for you to move them around your house. And guess what, that too even without causing any scratches. However, the whole thing can backfire if you mistakenly go for a wrong wheel type here.
There are some wheels that can cause serious marks over the floor. So, make sure you go for non-rubber and ball wheels. Also, you want to keep these wheels clean regularly. So that when they roll across your floor, there's no dirt or debris adhering to it.
There are coasters available for chair legs as well. You can use those for preventing scarring. These are available in various diameters and you can easily grab one that accommodates specific leg dimensions properly.
Using a coaster, you can easily stop chairs scratching wooden floors since these covers around one inch of every leg. And so, there are no scratches once you scoot or tip the chair at any angle.
How About an Extra Prevention Coat?
If you have a hardwood floor that has pre-finishing, then there's no need to think about any extra coating. In fact, you must avoid the coating, since that will make floor become more vulnerable to scratches rather than protecting it. Also, there's a chance of voiding manufacturer warranty.
However, if the hardwood flooring went through an on-site sanding, an extra coat can be helpful for preventing scratches. Every once in three to four years, it's good to go over a recoating session after refinishing. This is a step towards perfect preventive maintenance. Also, it helps to preserve the color.
Wrap Up!
That's it for today's session on how to keep furniture from scratching hardwood floors. Keeping those floors fresh looking and clean is surely a concern. And you should not hold yourself to keeping your floors forever beautiful.
Because that's what partially represents you to your guest. And you don't want to make a gross impression on your boss who came to enjoy a delighting dinner at a nice-looking home environment.