Curtains are excellent accessories for your home. It can be a perfect way to add some color and patterns to your home decor. To maintain your privacy, to block excessive sunlight, to get your washroom carpet dry curtains are used. Moreover, you will need it from the living room to bathrooms, everywhere.
A beautiful curtain can enhance the beauty of your home. Besides, these will provide your room a designer quality look on a reasonable budget. In this article, I will share information about how to make curtains without sewing machine. I would also like to provide some tips and tricks to make your window covering look exceptional.
The Easiest Way to Hem Drapes without Sewing
Sewing curtain with proper manner can be an extremely tough job for any beginner and it includes many risks too. But, the good news is that you can pretty easily make an unstitch curtain by following some simple steps. They are given below-
Choose your curtain cloth wisely
Choosing clothes according to the color of the wall and furniture of your home is an important thing. Perfect matching makes both your curtains and rooms look gorgeous.
Curtain should be ruffled not flat
Make sure to get enough volume in your drapes. So the width of the draping should be 1.5 to 2 times the width of the curtain rod.
Determine the curtain length
Determine how long you want your curtains to be. It may be pooled a little on the floor, skimming on the floor or slightly off the floor. Firstly hem the upper part of the curtain which will be hung on the rod. You can attach hooks or rings to set on the rod. You can also buy curtains with which hooks or rings are readily attached.
Measurement
Hang your curtain on the rod and measure where you want to hem them. Now mark that position and add another 2 inches (5 cm) of cloths with your desired length. Mark this length and use a straightedge to draw a line. Now cut the extra cloth with scissors.
Applying the hamming tape
Bring the iron board by the side of your drape. Flip the drape that the backside is upon the top of your ironing board. Turn the edge over 1 inch (2.54 cm). Press your iron all along the fold making sure it measures 1 inch (2.54 cm). Repeat folding your edge over again another inch. Now use some wide hem tape. You will find it in crafts and fabric stores. Insert the hem tape in the double folded hem and press the iron. Ironing with proper heat will help attach the tape with your hem.
Alternative of hooks or rings
If you don't find readily attached hooks or rings with clips. Don't worry!!  There is also a way to rescue you. Mark 1 inch (2.54 cm) on your upper part of curtain and draw a straight line. Now measure the radius of the curtain rod and add 1 inch (2.54 cm) with that length. Now mark that length inside 1-inch line and draw a 2nd line. This extra inch will help the rod to be inserted within the tunnel of draped freely.
Finally, attach the 1 inch (2.54 cm) of cloth with the edge of 2nd line using hem tape. Leaving the cloth between 2 lines will create a tunnel where you can insert the curtain rod comfortably.
That's it!  Your DIY no sew curtains are all set to hang on your windows.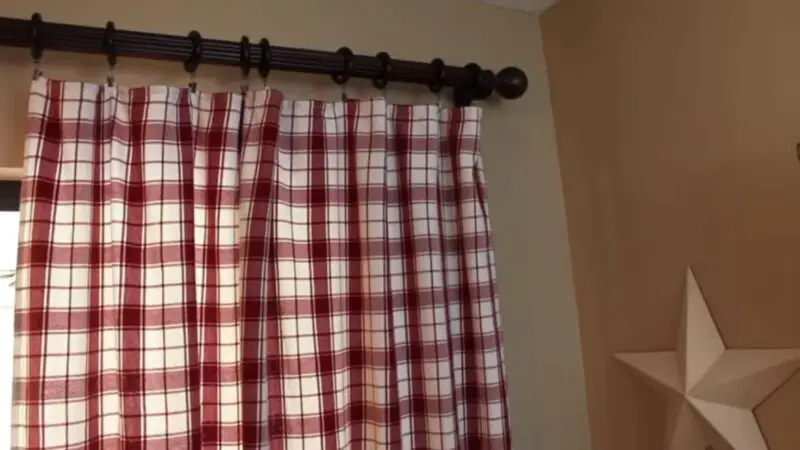 [spoiler title="Related Articles You May Read:" open="yes" style="fancy" icon="arrow-circle-1″ anchor_in_url="no"]
# How to Clean Fabric Shower Curtain Liner
# How to Clean Plastic Shower Curtain Liner
# Best Bathroom Exhaust Fan with Light & Heater
# How to Stop Couch Cushions from Sliding
[/spoiler]
Useful Tips Regarding the Rods of the Curtain
Hang your curtain rods close to the ceiling
Hanging your drapes close to the ceiling gives a look that seems your ceiling is higher. People generally hang their drapes just above the window right on the trim. A lot of space between the trim and ceiling makes the ceiling feel shorter. So make sure to set up your curtain rod close to the ceiling that makes the room feel much more open. It gives a beautiful tall ceiling effect.
Use a curtain rod wider than the width of your window
It will help you to pull your drapes all the way from side to side from either side of the window that set a sense of width of your windows. That will create a sense of width showing the whole window. It will also permit a lot of sunlight to enter into the room.
Conclusion
I hope this article will assist you to learn how to make curtains without sewing machine. Once you master this technique, you can have fun experimenting and applying different tactics or designs on it.
Don't forget to let us know how you make curtains by hand mixing your strategy and following this helpful guide.