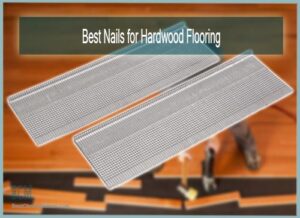 Things have changed in hardwood flooring installation since the introduction of modern nailers. They can do the job quicker and deliver long-lasting installation.
And with that, we have seen a big change in the design of the nails. They have changed in shape, size, and design. These are the points that decide which are the best nails for hardwood flooring.
Then, there is the big discussion of nails vs staples. Which one do you prefer? We tend to opt for the nails mostly due to their convenience. Also, it keeps the original structure of the hardwood planks because of its shape.
In this article, we'll discuss your options for good nails as well as some important information for better floor installation.
What Is the Best Nail Size to Use for Hardwood Floor Installation?
When you're installing solid hardwood flooring of 3/4″, you should use 2″ long staples or nails. On the other hand, if the flooring is thinner than 3/4″, then you should use shorter nails such as 1-3/4″ or 1-1/2″. To get the best out of them, nail the hardwood planks at 3" and 8" distance from each side.
5 Best Flooring Nails for Hardwood Floor Installation
There is no shortage of flooring nails on the market. They come in different shapes, sizes, and packages. But which of them deserves your money? Read the reviews and decide for yourself.
1. BOSTITCH Flooring Nails, L-Nail, 2-Inch, 1000-Pack 3/4″ hardwood flooring
Feature Highlights
2-inch 16 gauge L-shaped cleat
Good for 3/4″ and 1" thick hardwood flooring
Boasts a coated finish
Contains 1,000 cleats
Coverage: 1,000 cleats per 200 sq. ft.
Made from high-quality steel
Cleat's shape allows easy penetration and durability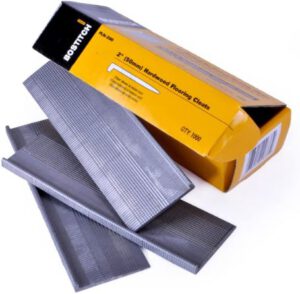 The first one we chose is the L-shaped flooring nails from Bostitch. There is a good reason why it's chosen. This company is run by the same team that produces products for Dewalt, Stanly, and Black & Decker brands. So, there is that assurance of quality everyone looks for.
Before delving into the details, you should know that this is not a typical nail in terms of shape and size. They are called cleats, and their design is most appropriate for nailer machines.
Compared to nails, these are stacked together in a unit, and that makes it easier to install them in the nailer machines.
These Bostitch nails are L-shaped and 2 inches long. If you are looking to install 3/4″ hardwood flooring, then this is a perfect size.
This specific pack contains 1,000 cleats. Each pack will cover 200 square feet of hardwood flooring. For more coverage, you can either buy more packs, or you can buy larger packs of 5,000 units.
These cleats are strong and durable. Unlike ordinary nails, there is almost zero chance of cracking or bending.
We loved that these cleats are compatible with other brands. That means you can use these nails with nailers from other brands as well. Compatible brands are Porter-Cable, Powernail, Primatech, Senco, and True value.
2. Powernail PowerCleats 16ga 1-1/2″ L-Cleat Flooring Nail
Feature Highlights
1 and a half inch long L-cleats
Saw-like serrated edge on the body
Cupped tip design penetrates wood without damaging the fiber
This pack contains 5,000 cleats to cover a 1,000 sq. ft. area
Galvanized steel
Good for half-inch thick solid hardwood flooring
The second nail product on this list is the PowerCleats from Powernail. Established in 1946, Powernail revolutionized the process of hardwood flooring. Since then, it has made itself an industry leader. And this product is a testament to their quality.
As the name says, it's not your average nail with a circular head and smooth body. It's a cleat with its L shape. Plus, it's the perfect shape for nailer machines for faster and stronger installation.
Regarding the design, the tip of the cleats seems to work better for driving into floors and underlayment. The serrated design on the body is another good aspect as it makes nailing easier, but it won't come out from its place easily.
The cleats are 1-1/2" long and 16 gauge. According to professionals, this is a good nail size for solid hardwood flooring that's thinner than 3/4″.
This package comes with 5 boxes of 1,000 cleats. This is a huge number, and the amount can cover 1,000 square feet of hardwood flooring. Of course, the coverage will increase and decrease depending on the spacing of planks and nailing.
Although it isn't mentioned from the manufacturers' end, they can be used with other brands' nailers if you don't have a Powernail nailer.
---
3. Powernail 18ga 1-3/4″ HD L Cleat Flooring Nail for 3/4" Solid Hardwood Flooring
Feature Highlights
1-3/4" long cleat is a good choice for a 3/4" thick hardwood
It contains 5,000 pieces of cleats
Made from galvanized steel
Easily splits hardest of wood types
Can be used outside
Jagged edge for a stronger grip
This is another Powernail Package with a difference in specifications. In terms of price, it falls in the more expensive category. But regarding quality, there is little doubt. If you're working with 3/4″ solid hardwood flooring, you may consider this option.
These flooring nails are cleats with an L shape. Unlike your ordinary nails, you get them in stacks ready to go into the nailer machines. Both the shape and size of the cleats are designed for maximum durability.
The tip design makes it easier to go through even the toughest of woods without splitting and weakening the structure. Similar to the cleat nails above, this also has a jagged edge like a saw which helps to go into the wood and prevents it from getting dislodged.
In this package, you'll be receiving a case containing 5,000 cleats in 5 different boxes. Ideally, you should be able to cover an area of 1,000 square feet. The coverage may increase or decrease depending on how much you use on each plank.
These cleats are 1-3/4" long and 18 gauge. It's a good size to use on 3/4" thick solid hardwood.
As for nailer compatibility, you can use Powernailer models or any other nailer from other brands that works with 18 gauge and L-shaped flooring nails.
---
4. Porta-Nails 42629 2-Inch x 16-Gauge T-Head Hardwood Flooring Nails
Feature Highlights
Cleats are T-shaped
They are thicker and stronger than L-shaped cleats
This pack contains 1,000 pieces that cover 200-sqft
16 gauge diameter and 2" long
You can use them inside or outside
Serrated edge
It won't damage or split the wood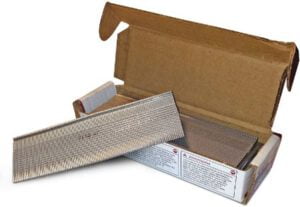 The 4th product we chose is the T-head flooring nails from Porta-Nails. Compared to other nails of the same category, these cost a bit more. Porta-Nails isn't as known to the public as the Bostitch nails, but they have a proven track record in this sector.
These cleats have a T shape as opposed to the common L-shaped cleats. The T shape design is, in our opinion, better due to its thick body and narrow tip. It almost looks like a knife with a serrated edge. And consequently, they are stronger and more durable than L-shaped cleats.
The cupped point/tip makes it easier to go through very hard flooring without damaging or splitting the wood. And also, the serrated body helps to cut through the wood while at the same time preventing the nail from coming out.
These nails are 2" long and 16 gauge. According to the professionals, the best nails for 3 4 hardwood flooring should have these dimensions. You can use them with thicker hardwood planks.
This is a pack of 1,000 T-head nails with a coverage area of 200 square feet. The optimum plank width for these nails would be 2-1/2 inches.
You can't use all nailer machines to use these nails. According to the manufacturer, only the Porta-Nailer and Portamatic flooring installation tools are compatible.
---
5. Meite 18 Gauge 2-Inch Leg Length Galvanized Brad Nail for Crafts, Upholstery
Feature Highlights
Brad nails
These can be used for hardwood flooring
18 gauge diameter
Can be used outdoors as they are galvanized
Smaller head than L or T shaped cleats
Significantly cheaper than L or T shaped cleats
The last selection for this list is from Meite. Meite is a brand that's quite young. After being established in 1996, it rose quickly in the industry. And customers seem to love it.
It's different from the above products in terms of design. These are called brad nails instead of flooring nails. They have a much smaller head than your L-shaped or T-head nails. And this significantly affects the decision on your part.
There is another aspect where the brad nails differ from normal cleats. Brad nails don't have any jagged saw-like edge on the body. And that can either be positive or negative. It makes it easier to push through, but there is a chance of getting dislodged.
This package comes with 5,000 pieces of brad nails in 8 boxes. You can get area coverage of 1,000 square feet out of them, depending on the spacing between each nailing position.
They are 18 gauge brad nails for hardwood flooring and 2" in length. You can use it for solid hardwood flooring. But the ideal uses for these brad nails are crafts, upholstery, and small home projects.
You can use the Meite industrial brad nailers for these nails, or you can use any other 18 gauge brad nailer if you have them already.
---
Types of Nails for Laying Hardwood Floor
There is no shortage of nails and their types when it comes to craftsmanship. The history of nails is too long for that. And the same case is for your flooring nails for hardwood floors.
Nowadays, all of the nails are machine engineered unless you're looking for really expensive ones. Here are the most common types of nails for installing hardwood floors.
T-Head Nail
Among the most popular and useful nails for hardwood floors is the T-head nail. It looks like a T, hence the name. The top is thicker, and then gradually, it gets narrower towards the bottom. These are made from heavy steel and galvanized. In terms of design, these stand to be the strongest.
Most T-head nails have a jagged sawlike edge around the middle of the body. This design helps to increase durability without putting extra pressure on the wood.
Regarding size, the most common sizes are 2, 1-3/4, 1-1/2 inches in length, and 16 and 18 gauge in diameter.
L-Shaped Nail
Another popular option for hardwood flooring installation is the L-shaped cleats. These are not your typical nails. Rather they are purposefully built for your modern nailers for swift operation. Made from heavy steel wiring, these are found in most homes.
These also have a serrated body that cuts the wood and keeps the cleat in place against hits. You'd have to damage the wood to bring it out.
You can find the L-shaped nails in sizes of 2, 1-3/4, and 1-1/2 inches in length. And there are two diameters; 16 gauge and 18 gauge.
Brad Nail
These are quite simple compared to the two nails above. Brad nails, as they are called, are mostly used in crafts, upholstery, and decoration. But these can be used in hardwood flooring as well. Even though these are made of heavy steel, they fall short in durability as they are found in only 18 gauge in diameter.
Also, these do not have a jagged edge like the T-head or L-shaped cleats. However, this design makes it more forgiving for your wood planks.
In terms of length, they are available in 2, 1-3/4, 1-1/2 inches.
Square Cut Nail
All of the above were machine engineered, and this one is completely hand-made. Yes, they are for luxury and purity. Even though in terms of utility, they are not better, puritan people are still keeping it in play.
Square cut nails are similar to brad nails in design, but they are to be used manually with a hammer. You can use nailers for brad nails, and T and L-shaped nails but not for square ones. Time-consuming and low utility, why do people buy them? Beats me!
If you do buy them, they are found in the same size as above, between 2 inches and 1-1/2 inches.
Rosehead Nail
Here's another one for luxurious and decorative purposes. This has a rustic look to it that can deliver a vintage theme to your crafts and indoor designs. These may look rustic but are quite strong and durable, thanks to heavy galvanized steel.
You can use them on hardwood floors but only for decorative purposes unless you want to break your bank! These are found in 1-2 inches in length and varying diameters.
How Many Nails Do I Need for Hardwood Flooring?
What is the amount you should buy when preparing for your new hardwood floor installation? It depends on the total area where you're going to do your project. Again, the amount of spacing between each nail matters as well. You don't want to space them too far or too close to each other.
The ideal spacing to me is nailing at 3" and 8" positions from each side. This will be perfect for 3-5 inch wide hardwood planks. If it's wider than that, the spacing should be 6 inches. That amounts to 1.5-2 nails per foot.
Now, measure your targeted area and calculate the total length in the same direction as your planks. Then, measure the number of nails you need for this length. Add 10% of it as you will need to include extra nails for shortboards. These need extra nails on each end.
Next, calculate the required rows to complete the flooring. You can do that by simply measuring the length perpendicular to the plank direction and then dividing it by the width of one plank.
The multiplication of the number of rows and nails required for each row is the number of nails you need to purchase.
Frequently Asked Questions
What nail size is the best for hardwood flooring?
Nails come in different shapes and sizes. Solid hardwood flooring of different thickness needs different sizes of nails. The general rule is this,
1-3/4" for 3/4″ thick flooring
1-1/2" for 1/2" thick flooring
2" for 1" thick flooring
The diameter is also important. 15, 16, and 18 gauge are the common ones, 15 being the widest and 18 being the narrowest.
Should I use nails or staples?
Both are good options, although there are differences. While a staple gives a stronger and tighter hold because of its two ends, a nail makes for a more natural expansion and contraction of wood.
Do brad nails work properly in hardwood flooring?
Yes, brad nails will work on hardwood floors. But these are not ideal for longevity.
Should I glue and nail my hardwood floor?
It depends on the subfloor material. If it's concrete, you should start by using glue and then nail down the hardwood. Otherwise, with a wooden subfloor, you can choose to go and nail down the wood without gluing.
Which is better? T-head or L-shape?
They are both good options for hardwood flooring, although the T-headed hardwood flooring cleats are stronger due to design. L-shape is thinner, and that makes it more forgiving for hardwood's internal structure.
Final Words
That's it. That's all you have to know for your upcoming hardwood flooring project. Whether you're an amateur or a professional, these are the options you are looking at, and we reckon they are among the best nails for hardwood flooring. And we hope you'll nail them!