The cleanliness of a bathroom depends on its belongings. Just imagine, a stained scummy shower curtain that covers a big area of your bathroom, does it sound good? Not to me.
A shower curtain liner keeps water/soap/shampoo/conditioner in and keeps your bathroom floor dry. In other words, it saves your shower room from a messy look. By doing so, it gets a sticky and dirty look of its own.
It's easy to clean a plastic shower curtain liner but when it comes to the cloth one, you must be very careful because you don't want a rough shower curtain liner. So, let's see how to clean fabric shower curtain liners with ease.
Pro Guide to Wash Fabric Shower Curtain Liner
Before starting the cleaning process of the fabric curtain make sure that you are fully prepared by doing these-
Hot water or warm water is essential for washing clothes. Manage adequate hot water needed to smoothly wash your shower curtain.
Detergent is an important ingredient for cleaning. It helps to remove stains, spread a nice smell and brighten up the color of the curtain. So, buy an all-purpose detergent from the shop.
As we all know vinegar does magic in laundry work. Ensure that you have ½ cup of distilled white vinegar.
Take a large bowl or bucket which has enough space for your holding your shower curtain.
Carefully remove the shower curtain from the rod and wipe the rod with a clean, wet piece of cloth. Don't forget to wash those rings on your curtain. These things also get stinky and dirty.
Soak your shower curtain in the hot water for 3 to 5 hours before starting the actual cleaning process. It makes the stubborn stains softer so it becomes easy to wash out.
You need to change the water after the first soak because water becomes excessively dirty after the first soak. Again soak for a minimum of 2 hours in normal temperature water. Moreover, it will help you to get mold out of fabric shower curtain
Don't soak it inside your washing machine because sometimes hot water causes harm to some washing machines, mine does. If your washing machine is hot water friendly then you can go for it.
Now it's time for you to get ready for washing.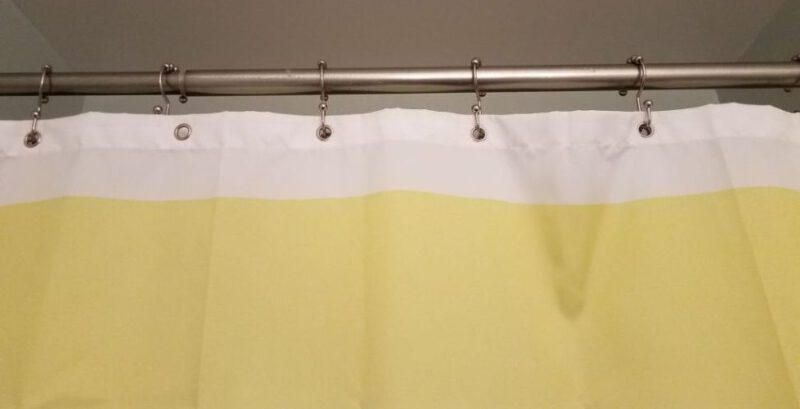 Let's Begin the Washing Curtain Liner
Here comes the washing part, now you can employ your washing machine to clean the fabric shower curtain. And, the steps are given below-
Step 01: Filling Water
Fill the washing machine with water, the amount should be 3 gallons, which means 3.7 liters (nearly).
Step 02: Add Washing Ingredients
Add detergent as much as it needs. Normally I use one scoop of detergent for one gallon. Baking soda is also important. Add ½ cup of it. Also, add some vinegar. You can get all of these from any local grocery store.
Step 03: Mixing Things Up
Spin the machine for 2 minutes to mix detergent, baking soda, and water. Then toss the curtain in the washing machine.
There is a suggestion for you, take two white-colored towels and put those inside your washing machine with the fabric curtain. These will offer extra rubbing to the liner. Never use other color towels like yellow or red. It can change the regular color of your shower curtain and you don't want it.
Step 04: Start the Washing Machine
First, set the timer for 15 minutes. This much spinning time is enough for your shower curtain. Remember, spinning should be in a gentle mood. Sometimes you can pause the spinning and give it a rub with your bare hands.
Rub it nicely and gently otherwise you can tear it apart. You can repeat this hand rubbing 3 to 4 times during the washing period.
Step 05: The Finishing Touch
Drain the water. Make sure the washtub is empty. Fill it again with water. This time set the timer for 10 minutes. Just let it spin, no touching, pausing, hand rubbing, nothing at all.
After 10 minutes, take out the curtain from the washing machine. To be honest, your shower curtain isn't going to be as fresh as a new one but it will get a cleaner and brighter look than before.
How to Dry the Fabric Shower Curtain Properly
You must be thinking what is so important about drying, I can use the dryer machine or I can hang it outside of my house. Sun is going to handle the rest of it. No…not at all.
You can't use the dryer machine. Yes, you can make use of sunny days but sometimes after washing your fabric shower curtain, it gets wrinkled. So you should iron it with a lower hit first. Then and only then you can hang it outside and let the sun do the rest.
Make Some Daily Habits
Your fabric shower curtain liner may look clean now but no wonder a few days later it's going to get a dirty and scummy look again. The good news is that maintaining some useful habits can help you to keep this cleanliness much longer. They are-
Spray distilled vinegar-water mix on the shower curtain liner once a week. And, to remove the smell of the vinegar, you can add a few drops of lemon oil to the mix.
Pour some fresh water from the top of the shower curtain every day so that the soap and shampoo adhering to the curtain get washed off.
Always try to wash your fabric shower curtain liner once a month. Though it's an annoying task, for the sake of cleanliness it must be done.
To sum up
I believe now you have got a clear understanding of how to clean a cloth shower curtain. If you carefully follow the above-mentioned processes then you will be able to clean your fabric shower curtain precisely by spending minimum time and effort.
---
Related Blog Links – 
Way to Clean a Fabric Shower Curtain Liner