It can't get any than worse when you're back home from a hectic day and find your food in the freezer turning into freezer burnt trash.
Big no! If you are not vacuum-sealing your food, you are not sealing properly. To keep your food fresh for longer, you need a good quality vacuum sealer.
In this piece, we will help you find the best vacuum sealer for home use for you to store your food in the best way possible! With food prices steadily increasing, it is more important than ever to ensure your food does not go to waste due to freezer burn or improper storage.
Quick Pick Recommendation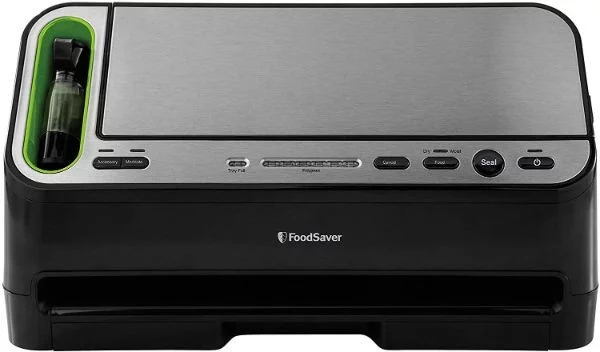 Are you In a hurry?
If you don't have time to read all these reviews and you want me to give you a quick recommendation, you can check out the Foodsaver V4400 2-in-1 Vacuum Sealer Machine.
Reviews of 6 Best Vacuum Sealer for Home Use
Is it easy to get the best vacuum sealer from the market? Hmm, a tough one. Well, it's easy if you know how a sealer works and which brands offer the best specs. But if you are yet to reach that pro-level, here are the top 6 best vacuum sealer reviews for you.
List of the Top Rated Vacuum Sealer for Home Use We Reviewed
1. NutriChef Vacuum Sealer – best food vacuum sealer for home use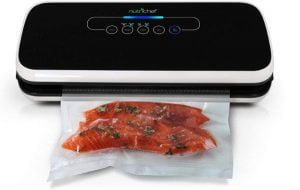 If you are looking for a simple, yet smart vacuum sealer for your everyday food preservation, say hello to the NutriChef vacuum sealer. It's fully automated, Plug & Play enabled, and a great performer when it comes to sucking the air out.
It sucks the air inside the bag at a speed of 12 liters per minute. That means you can save a lot of time while you are sealing your food in the pack. All you got to do, is tap the soft-touch digital buttons on the sealer-top to command what to do with your food.
Feature Highlights
The fully-automated machine runs with the one-plug connection that reduces useless fighting with cables.
Fast suction of air allows you to take less time for preserving food.
Dual-mode of suction for moist and dry food, you get 2-in-1 service.
It comes with healthy reusable sealing packs to take care of your health.
It can preserve food 5 times more than regular zipper preservations.
Don't get confused by its compact size. This smart device has loads of surprises inside. You get two options to seal your food. You can select the type of sealing you want. Is it moist food you are trying to seal? Click the moist button on the device.
If you are trying to seal off solid food, you need to click the solid sealing button on it. It's that simple. For moist sealing, it will pull off the extra moisture from inside. For dry sealing, the device will suck out all the oxygen of the pack.
It comes with a roll of vacuum packs that are made from healthy and non-toxic safe materials. These bags are waterproof, and you can re-use them over and over again. The bags effectively retain all the taste, color, and smell of your food.
There are 5 different digital buttons on the sealer for the best navigation experience. It gets super-easy to operate with the indications in place.
The machine can prove to be stain-resistant and corrosion-free, given that you are taking care of it periodically.
---
2. VAC-VIDA VS301 Chamber Vacuum Sealer – best For Serious Home User Or Restaurant
If we were to mention just one single reason for this one to climb up to the top on our list, it would be its heavy-duty oil pump. Powered by a ¼ horsepower oil pump, the sealer can seal off nearly anything you put in a bag. It's so powerful that if you don't pay attention to the sealing, it can even squeeze the food inside the pack.
The motor is very efficient in keeping squeezing the air out for a long time, and it will help the machine last for years. Moreover, it can seal off the
Feature Highlights
Powerful One-forth horsepower oil pump promotes heavy air-pumping.
Extra-large space for you to seal off bigger packages.
Allows packinga variety of food items like liquid and meat so that you can store any food you want.
Using cost-effective plastic bags that save your money, every day!
Durable and attractive-designed stainless-steel body for long-lasting use.
You can't unsee the shining black coated stainless-steel body of the VAC-VIDA VS301. It's elegant and durable. Use it randomly in your kitchen without worrying about its vulnerability.
Pack your food in packs that measure up to 10-inch wide and 13-inch in length as the extra-large XL-sized chamber of the machine can hold anything around that size. Put all those chicken legs together inside the pack and squeeze the air out in no time!
While most of the common sealers seal off dry food, the VAC-VIDA VS301can pack food items that are liquid, moist, soft meat, and hard meat, etc. If you own a restaurant, you are in luck. Keep your food healthy and fresh for a great amount of time!
If you are into saving your money, you should definitely opt for the VAC-VIDA VS301, as it uses plastic pouches that cost you less than the average ones. It can save you up to 100 bucks per year!
Talking about the design, it's pretty sleek. You definitely want to keep something like this on your kitchen table, that's for sure!
---
3. Foodsaver V4400 2-in-1 Vacuum Sealer Machine for Home Use
With an automatic bah detection system, the Foodsaver V4400 seals food with less human assistance. It has a built-in sensor that can sense the bag, meaning you just need to put the bag with food in the machine. The device will carry on the task itself.
Unlike other sealer-machines, the V4400 can detect the moisture of the food and can automatically switch modes. The moment you have placed a bag of moisture-food, it can activate the moisture sealing process of it.
This saves a lot of time and calls for less manual intervention during the sealing process, which is absolutely brilliant.
Feature Highlights
High quality and durable body that you can use for a long time.
Automatic moisture sensor and sealer to reduce your effort at a significant level.
It comes with built-in storage and roller cutter for you to get a one-stop service.
Compatible with most common storage options, so that you get true variety while using it.
Attached drip tray for collecting extra liquid from the bags.
One of the most exciting features we have come across is the automatic roller and cutter option of it. It lets you roll out and cut bags according to your needs. You can put any bags with a size that fits in it and have it sealed.
It is compatible with FoodSaver 8 to 11 inches seal rolls, any pre-made bags, FreshSaver zipper bags, Fresh containers, and Quick Marinator. You have the freedom to choose your own preserving bag and container, and still get it sealed by it.
It comes with a very convenient and effective drip tray that collects the extra liquid squeezed out of the bag. It is removable and washable. You can take it out after use and clean it up.
All the parts of the sealer are ETL and UL certified by the Nationally Recognized Test Laboratories. Your food is going to be safe with this device, as food safety is FoodSaver's number one priority.
---
4. KOIOS TVS-2233 – Food Vacuum Sealer Machine Automatic Food Sealer
Koios Vacuum Sealer is a versatile automatic food saver vacuum sealer for your day to day use. With an impressive wide sealer head, the machine can seal off a wider bag with ease.
In addition to wider package sealing, the Koios TVS-2233 can seal multiple packages at the same time. This efficient option can save thousands of minutes of our life every year!
It comes with a very simple design of only three pressing buttons on top. You can click on the buttons to start or finish the sealing process. This one-key automatic vacuum system makes the device pretty easy to use for everybody in the family.
Feature Highlights
It supports multiple packaging at the same time, saving tons of time in one go.
Extra-wide opening for various preserving-bags to provide you true versatility.
The one-key operation for automatic sealing enables hassle-free maintenance.
Moist and dry vacuum options for any food to be preserved.
External vacuum sealing support to enable you to seal off jars and bottles, etc.
There are two different options to seal. The moist and dry sealing. As it doesn't automatically detect the type of package, you need to click on the mode you want the machine to operate by.
You can cancel the sealing process any time in the middle of it simply by clicking the cancel button on top. It's a great option when you find out you are sealing the wrong food or using the wrong bag. It's never late when you are using the TVS-2233!
The device has a heating strip with a bottom pad with a mica sheet. It can endure temperature up to 300-degree F. You can expect the sealer to continuously seal 40 times without any threat of damage.
Not only package sealing, but the TVS-2233 can also pump out the air from external jar and containers. The external vacuum pumping supports canning, bottling, and so on. If you are not quite sure how to do it, just go through the manual that comes with the device.
---
5. Vesta Precision Vertical Best Chamber Vacuum Sealer for home
The first thing you notice in the Vesta Precision Sealer is its unique design. Its open-chamber Vacuum Sealer design will attract anybody who is interested in kitchen appliances. You just open the door, place the pack of food inside, and seal!
It can be used both horizontally and vertically, depending on your requirements. Moreover, the vertical seal-chamber design allows a better option for sealing and especially promotes liquid and fine powders.
You can fill the vacuum up vertically and to its fullest. You don't need to worry about any leakage or spills from your food packs. If you want restaurant-quality sealing in your home, this device is what you are looking for.
Feature Highlights
Air-tight sealing and marinating options for the best sealing possible.
The vertical design allows both horizontal and vertical use, giving you the freedom to use as you like.
Easy to store in the kitchen that saves a lot of space.
A set of a digital touch panel for easy operation and less confusion.
Leak and spill-resistant design help maintain the device with ease.
Placing the sealer in your kitchen is easier than you think. You can place it in the corner of your kitchen as it takes a very smaller area. However, you can even hang it from the kitchen accessories wall.
This will save your space in the kitchen, and you can use the device pretty conveniently.
It comes with a digital touch-screen panel for you to navigate through all the options of the device. The touch-buttons are user-friendly, and you can easily command whatever you want with the specification. Just select the sealing or marinating times on it, and sit back until it finishes its task off.
The machine works best when you use other products from Vesta. Using Vesta bags, sous vice products, vacuum seal pouches, and rolls – these are common Vesta products that suit the machine best.
---
6. FoodSaver V2244 – Home Vacuum Sealer Machine for Food Preservation with Bags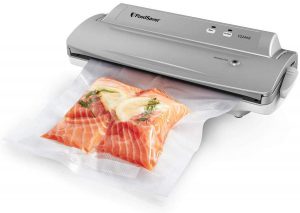 Our final pick is the FoodSaver V2244 Best home vacuum sealer. Its extra-wide sealing strip can hold on to nearly any bags of different sizes. All you need is just put your food reservoir bag in it and wait for the automation to kick in.
With the one-touch operation system, this machine is really easy to operate. Just press the button to seal the bags, and it will play its part smoothly. The built-in LED Light helps a ton guiding you throughout the whole sealing process.
Feature Highlights
Wider sealer head for a sealing a variety of bag-types.
Easy-to-lock lid that reduces your effort to close it down.
Moist and dry sealing options for maximum sealing of different food types
The liquid collecting washable drip tray to effectively take out waste.
ETL and UL certified safe product that keeps you less worried about your health.
One-touch operation with LED l ight for easy guidelines.
Locking the lead is pretty easy on this device. While most of the machine has a lid that needs a significant force of two hands to lock it, the FoodSaver V2244 comes with an easy-lock system that requires a little amount of force to close it down.
The machine allows sealing both dry and wet items. You are exempted from switching between modes to seal off the food. The one-click single-sealing option does the job for both.
A drip tray attached beneath the sealer is absolutely amazing to have. It holds and collects the liquid that comes out of the sealing process and separates the extra moist from the machine.
The tray is dishwashable, so you can take it out and clean it. Replace it when done.
If you are concerned about the safety of this product, just relax as the FoodSaver V2244 is ETL and UL certified by the NRTLs for its compliance and safety.
Things to Consider Before Buying a Vacuum Sealer
If you are planning on buying a best food vacuum sealer machine lately, here are a few points you need to consider. Whether you are an expert sealer or a newbie, the conditions remain the same.
How often will you be using the sealer
There are many sorts of sealers available on the market, ranging from a low-cost product to higher price ones. Which one you should go for depends mostly on your frequency of usage.
If you are not planning it, use it for a daily basis, then opting for cost-saver budget models can be a good decision. On the other hand, if you are to use the sealer every now and then, you better extend your budget for an expensive one.
Cleaning up the mess
No matter how often you use it, you need to clean the machine up regularly. There are some models that require special types of cleaning for their sophisticated devices. If you are not familiar with such cleaning, go for the products that ask for easy-cleaning for your convenience.
Keep the storage in mind
A sealer can take a lot of space. If you are running out of space on your kitchen table, you need to consider the size of the sealer. The smaller it is, the less space it will occupy. It's not the case if you have plenty of space to spare.
Food sealing options are crucial
Not all sealer accepts moist-food sealing. If you are in need of sealing liquid and dry food at the same time, consider opting for a dual sealing machine. All the products we reviewed here support both wet and dry food sealing. You can check them out.
Cost-saving plastic bag usage
Some of the sealers require some specific types of sealer bags for best use. It's good in a sense to preserve the combination. But it would not be possible to maintain the combination all the time. You can still look for sealers that allow low-cost universal sealing bags so that you end up saving your hard-earn money.
Easy to use is preferable
While we all know, vacuum sealing is a sophisticated process, and it should be done carefully, it is also true that everyone should be able to use it. If the sealer comes with an easy-to-operate panel, be it a touch-pad or click-able button, it's way better for you.

Frequently Asked Questions About Vacuum Sealer
1. How do you vacuum seal wet food?
Ans.To vacuum seal wet food, you need to fill the preserving bag with the food and place it in the vacuum sealer. Turn the moist sealing option on, if it's not an automatic one.
2. What should you not vacuum seal?
Ans.Do not vacuum seal freshly cooked veggies, soft cheeses, garlic, and raw mushrooms.
3. Can you vacuum seal raw vegetables?
Ans.For most of the cases, yes, you ca vacuum raw vegetables.
4. Can you seal any bags with the FoodSaver?
Ans.Yes, FoodSaver has vacuum sealing as well as sealing bag solutions for perfect sealing of food.
5. Should I freeze meat before vacuum sealing?
Ans.As there is a huge chance of bacterial attack for meat preserved at room temperature, it is better to freeze it before vacuum sealing.
Final Words
Now that you know how to find the best vacuum sealer for home use, it's your turn to select the one that suits you best. You can easily pick any devices that we have reviewed here, and start using today!
If you can't find the exact match you are looking for, consider our buying guide as a yardstick to find the best one for you.
Happy sealing!