When it comes to moving the refrigerator or the washing machine, you can't round up your whole family to lift all four corners. Even in the best-case scenario, making it to the truck with that whopping load is a miracle.
But moving need not be so difficult, let alone expensive! What you need is a great pair of appliance rollers to get all your high-end and hefty appliances out of the house.
Below we reviewed the best appliance rollers that are strong, dependable, and made of high-quality aluminum. They will expand to a generous size- accommodating the full width of your largest home equipment!
What's more, the good ones slide like butter on carpets and won't leave scuff marks on even the most delicate flooring!
Top Picks of Best Appliance & Furniture Rollers
For us, SoftTouch 4260795N expandable appliance roller is the best pick for appliance rollers. but if you think of gliding appliances and moving furniture with one tool, then Mega Maxx appliance rollers with lifter are the best options out there. It has an incredible amount of weight and limit and is easy to use as well.
Moreover, all our recommendations are of top quality. So, before booking a moving agent, take a look at our top 10 appliance rollers below and have the job done easier than ever!
1. SoftTouch 4260795N Expandable Appliance Rollers – Best Heavy Duty Appliance Rollers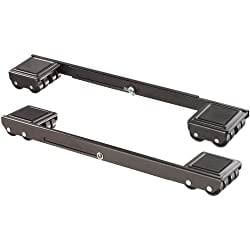 With this pack of two SoftTouch expandable appliance rollers, you can move all your huge home appliances in the easiest way! You can adjust the size from 18-¼ inches all the way to 28 inches. Besides, the non-marring wheels are going to be incredibly gentle on any type of flooring you might have.
SoftTouch has an admirable range of moving essentials, especially surface protection products such as felt pads, bumpers, doorstops, and caster cups. When we found out about their new appliance roller line, we simply knew they were worth a try. And it wasn't a surprise when their expandable rollers effortlessly hauled a chunky refrigerator, washing machine, and a dryer one at a time.
These appliance rollers for the washing machine are expandable, which means you can go one size up or one size down without using any tool. It makes transporting appliances an easy job, especially for movers on a budget.
Moving on, we loved the supporting saddle on these rollers. They allow the product to house large home equipment for long periods of time without giving away under all that weight. And finally, the non-skid pads on all four corners prevent the loaded appliance from jolting unexpectedly.
---
2. Shepherd Hardware 9603 Adjustable Appliance Rollers – Best Heavy Duty Kitchen Appliance Rollers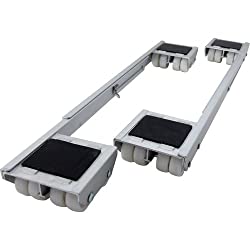 Featuring powerful PP wheels, an adjustable length, and an extra sturdy aluminum platform, Shepherd Hardware 9603 is going to be the new favorite product on your moving checklist!
Be it a proper floor clean-up or a full-on relocation; appliance rollers are must-have moving accessories for every household. Keeping that in mind, these heavy-duty appliance rollers by Shepherd Hardware incorporate 32 independent wheels in each pair of rollers.
They evenly spread the weight across the wheels and make the rollers capable of carrying 2000lbs of weight! And the fact that you get two appliance rollers in the pack is a total bargain. Truth be told, we found these kitchen appliance rollers to be the only trustworthy products under 20 dollars.
Besides, the more we researched appliance rollers, the more we realized that Shepherd Hardware did not compromise quality at all. For example, their aluminum platform offers easy mobility and stability at the same time.
We also liked how these rollers are not going to add a significant height to your appliance. An additional 1-⅜ inches of height is very unlikely to blow your refrigerator height out of proportion. Lastly, the innovative length-locking wingnuts firmly lock the platform's length anywhere from 18-½ inches to 27-¾ inches.
---
3. Roughneck Spider Mover's Dolly – Best Appliance Casters and Rollers for Washing Machine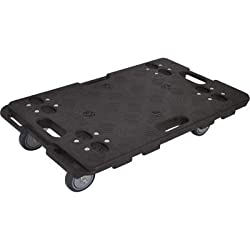 If you were looking for a skidproof mover's dolly with the option to upgrade, you should definitely give the Roughneck Spider dolly a look! It features molded notches on opposite sides so that you can easily position the dolly under the cargo.
To begin with, this mover's dolly is visually quite different compared to common appliance casters and rollers. For example, it sports a cushioned polyethylene top with four polyurethane casters.
The casters are specially engineered to transport heavy loads without getting compressed under the weight. And speaking of weight, its premium casters are all equipped to carry loads up to 330 pounds!
Moving on, the casters run 3 inches in height, and their steel ball bearings are quick to roll and pause. What's more, turning corners with this product is the easiest since it has a fully-supported and skidproof deck!
However, the best thing about these heavy-duty adjustable appliance rollers is that you can join as many rollers as you like! That's right, its interlocking edge on the deck allows you to hook up another Roughneck dolly. It's a smart way to double the weight capacity on these rollers, and personally, we were completely sold on this unique feature!
---
4. Mega Maxx Furniture Lifter with 4 Sliders – Best Heavy Furniture Lifting and Moving Tool Set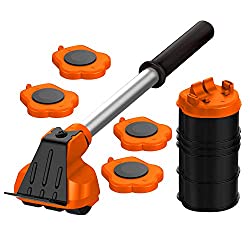 Sporting an insane weight limit of 2600lbs and super high-quality casters, we have nothing but good words for these Mega Maxx appliance rollers. Find us such high-capacity rollers around thirty dollars; we'll wait!
You can haul everything from your refrigerator to the wardrobe on these rollers. The fact that this heavy furniture lifting and moving tool set comes with a furniture lifter and height controller is a big win.
For example, you don't have to move too much for lifting the refrigerator corner and setting the wheels in position. The furniture lifter will do it for you!
Each caster can accommodate 660 pounds of anything, and it sure does it with perfection. What's new with these brilliant rollers is that their compatibility with appliances is not limited to any pre-set width. Since the product doesn't require a platform or connecting tubes, you can actually move absolutely anything regardless of its size!
Considering you get to protect carpets, change flooring designs, and move homes in peace, appliance rollers are the extra pair of hands you need for a hassle-free lifestyle. And what better way to have this luxury than getting these Mega Maxx appliance rollers? In total, you have enough capacity to move a 2600-pound appliance ready to slide right through that door!
---
5. Stalwart 82-43752 Mobile Roller with Foot Brake Locking Wheels – Affordable Rollers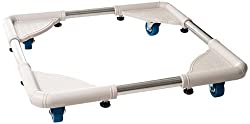 This affordable roller set by Stalwart gives you the comfort of changing neighborhoods without paying a handsome amount of money to the movers!
Its simple design is what attracted us in the first place, but we ended up liking it even more for its unbelievable durability for appliance rollers under 25.
A piece of furniture and a household appliance can actually require two totally different types of rollers if you can't match their bottom design, weight, and width.
However alike they might seem in terms of their whopping weight, the two can be quite different from each other. Lucky for you, hauling square-shaped items has now become a lot easier with these exceptional rollers!
For starters, you can use the product as a furniture dolly and an appliance roller alternatively. Thanks to its 21″ ×21″ square platform, you can now fit large single living room sofas- one at a time! We're also looking at small cupboards and those closets which are sure to fit on the platform without any issues.
Stalwart 82-43752 makes excellent kitchen appliance rollers with expandable size up to 31″ ×31″ from 21″ ×21″. Their four rubberized swivel wheels, including two locking wheels, can haul a 220-pound load fairly easily. Besides, the 4 protective PVC corner pieces were a nice addition to the pack.
---
6. Grandekor Refrigerator and Washer Moving Dolly – Best Appliance Coasters for Washer Dryer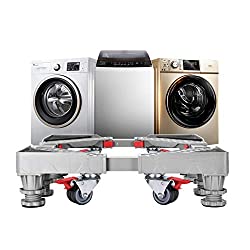 With an adjustable length from 19.5 inches to 27.5 inches, the Grandekor refrigerator and washing machine stand is all about flexibility! Use it as a portable washing machine stand or moving dolly.
You can also expand its width from 17.5 inches all the way up to 27.5 inches!
A pair of sturdy appliance rollers can get you a long way. You can move your refrigerator out of the house and load it on your pick-up truck.
Before paying the repair shop a visit or changing your address altogether, you need to have heavy duty appliance rollers for safely transporting those expensive appliances.
Thanks to its user-friendly pedestal-style construction, Grandekor rollers easily haul half a thousand pounds of weight atop its aerial aluminum base. And the best part? The wheels actually lock in with a press of a button!
Moreover, these affordable kitchen appliance rollers are fairly easy to assemble once you read the instruction manual. Their construction is not the simplest there is; especially if you've already liked the Stalwart 82-43752 from our list.
But Grandekor has more than twice the load capacity, and it was enough for us to spend a few extra minutes on the set-up!
---
7. Yaegoo Multi-Functional Adjustable Washer Dryer Dolly – Best Appliance Casters and Rollers with Lock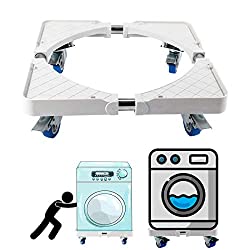 If you're looking for low profile appliance rollers, have a look at this multifunctional dolly by Yaegoo. It is equipped with lockable casters and flaunts extreme mechanical strength in a simple layout.
When it comes to getting luxury vinyl tiles on the floor, the number of appliances you need to move can give you cold sweats. After all, lifting that 300lbs refrigerator is not a joke. Worry not; Yaegoo has just the right appliance roller for the job.
For starters, you can tote a wide variety of home appliances on this extraordinary dolly. Did we mention how cost-effective this product is?  Starting off with our old-fashioned, gigantic washing machine, we count on the Yaegoo dolly for moving large air conditioners, refrigerators, dryers, cabinets, and cupboards alike!
If you consider its adjustable length and width range, these multifunctional rollers sure put many appliance casters and rollers to shame. For example, if the 19.6 inches of length isn't doing it for you, expanding it up to four more inches is totally possible!
The same goes for the width. You can spread out the width up to 22.8 inches from 17.7 inches. It's pretty amazing if you ask us. Then comes its abrasion-resistant casters that flaunt superb mechanical strength and suppress vibration at the same time. Finally, its 770-pound weight limit is extremely generous for the price.
---
8. Airsled Heavy Duty Appliance Mover (AM2401-VS) – Best Heavyweight Home Appliance Mover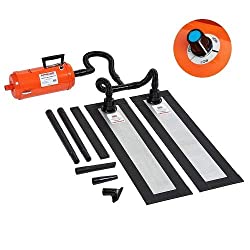 Got a carpeted hallway and need to move your old washing machine to the yard sale? You're in luck because Airsled has one of the coolest appliance rollers for heavyweight home appliances to date.
To begin with, this appliance mover has a unique construction that sets it aside from the rest of the products. For instance, this is the only appliance mover on our list that is activated by a 4HP motor. It's infallible 950lbs weight capacity makes it a suitable product for professional movers.
Additionally, the air beams spread thirty inches at max, and they are made of heavy-duty aluminum sourced from the USA. Its plastic surface adapters come in handy when you have laminated flooring or a carpeted space.
The sleds are 36 inches long and 9 inches wide, and they can haul appliances as wide as 48 inches and more!
Overall, this product is greatly suitable for regular movers who are always on the run and need to transport enormous luxury appliances within a short time. All you need is a 4HP 120V motor or an 11.3-amp blower, and you're good to go!
---
9. Rock-N-Roller R2G 8-in-1 Hand Truck Dolly – Best Adjustable Appliance Glider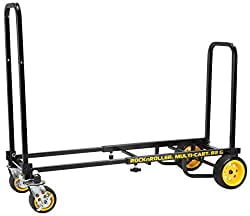 This Rock-N-Roll Micro-Ground Appliance Glider takes inspiration from a traditional furniture dolly and has the capability of hauling both. You can also upgrade the capacity of this folding Glider with a 25-foot extension.
What we like about this platform cart is that you can fold it down to a smaller size after use. In fact, you have the option to rearrange this one single product in 8 different styles. What's more, its R-Trac wheels have the best traction, and they are a lot like pneumatic tires. Except now, you don't have to service the wheels or spend money on its upkeep!
It is an extremely durable product with a reliable load-bearing capacity. Moreover, its powder-coated steel construction is textured for reducing the risks of slipping on wet floors and passages.
You also get two pairs of Flex Straps to firmly secure the items on the cart. But for that, you need to spend a few extra bucks. However, the product is highly practical and easy to maneuver as it is.
The two large handles on these adjustable appliance rollers make it possible for two persons to easily glide across the floor. Lastly, this cart is available in four colors so that you can give it a personal touch!
---
10. AFT PRO USA Push Platform Truck Dolly – Multipurpose Rolling Flatbed Cart for Household Items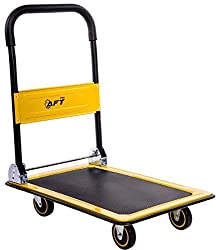 This push platform dolly by AFT PRO USA takes after the usual kind of furniture dolly you see at hotel lobbies and airports. It's compact, foldable, and priced at a reasonable level. What more can we ask from a cart-board platform dolly?
Since this is the last set of rollers on our list, we were looking for something different, and AFT PRO USA provided us with exactly what we wanted! To begin with, this platform truck dolly features a cart-board platform and a protective bumper for preventing accidental damage to the board.
This push cart has not only a rust-resistant body but also unbeatable maneuverability. We can say with confidence that this is the one cart you're going to need if you plan on running through a fake platform 9-¾. Jokes aside, its four PU wheels are of the finest quality. And the rubber grip is going to feel the most comfortable.
You get two swivel wheels at the handle part of the cart and two-directional wheels at the front. That said, turning corners with these Foldable handle appliance rollers is easy to figure out.
Considering the overall engineering and, of course, the looks, this push cart is a remarkable one indeed! Last but not least, you get a pair of gloves and a bonus wrench for servicing the wheels when needed.
---
You may read: Best Furniture Pad for Hardwood Floors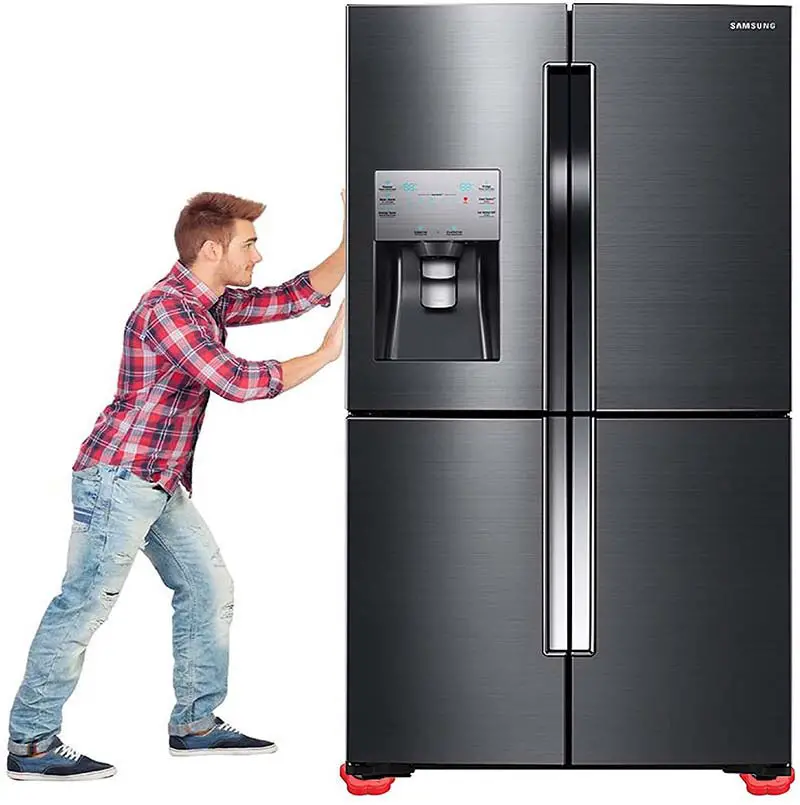 Things to Consider When Buying Appliance Rollers
If you're moving to a different neighborhood, consider getting heavy-duty appliance rollers for moving huge household appliances with ease. Given the skyrocketing prices of professional movers, we've taken shifting homes into our hands, and it's time you tried it too!
To begin with, you're going to need moving supplies, and looking at adjustable appliance rollers is a good place to start! We're listing down the top things to look for while buying appliance rollers right below!
Roller Type & Material 
There are a few different types of appliance rollers with their own installation systems. If you're looking for a heavy-duty furniture dolly, you're in luck. Most furniture dollies are of the flatbed cart type. They are super easy to build, and these dollies can carry about 300 pounds on average.
However, moving your big-old refrigerator on a cart-board dolly is a bit of a stretch. This is where aluminum alloy rollers come to save the day! A sturdy aluminum frame on refrigerator gliders, appliance coasters, and rollers is fantastic because it helps the product carry a lot more weight!
Our all-time favorite is the Grandekor moving dolly made of stalwart aerial aluminum with an outstanding load capacity of five hundred pounds!
Then there's the dependable Rock-N-Roller, a multifunctional appliance roller that you can transform into 8 different shapes. The material being robust powder-coated steel, you can move multiple small appliances or one heavy piece of equipment at a time!
Wheels & Casters 
High-capacity aluminum rollers sometimes introduce pneumatic wheels in their construction for better reliability. Pneumatic wheels also cancel out the noise, and their traction is to die for! This type of glider slides well on carpet and smooth floorings just the same.
Moving on, some appliance rollers will come with four triangular bases and matching connectors. Their pedestal stand includes two wheels that come attached to each of the four bases. Now, the best part is you can actually alter the height of the pedestal by rotating the casters.
Polyurethane casters with heavy-duty steel ball bearings also provide a smooth rolling performance. Their load capacity is very similar to that of furniture dollies- averaging around 300 lbs to 350 lbs. And their price- a total bargain!
Surface Adapters for Floor Protection
Great appliance rollers, as we mentioned before, have a fat chance of leaving scuff marks on your precious tiles and vinyl flooring. Even high-capacity rollers like the Shepherd Hardware 9603 are extremely gentle on the floors.
Considering these aluminum casters are made for hauling loads as heavy as two thousand pounds, their infallible floor protection truly surprised us.
However, the surface adapters on Airsled AM2401-VS casters came up with an innovative approach to keep your floors spot-free at all costs. For example, you get 4 rough surface adapters made of plastic. They can not only increase traction on wet floors but also help you glide the loaded casters smoothly on textured flooring at the same time!
Compatible Appliances
If a pair of appliance rollers is strictly made for hauling washing machines, expecting it to carry your super-sized refrigerator is too much. Then again, there are heavy-duty rollers that singlehandedly move weighty kitchen appliances and living room furniture without any issue.
Besides, it all comes down to the permissible load and highest expandable width while choosing appliance rollers. The caster quality plays an important role here because casters that give away under anything greater than 300 lbs are a big no-no.
That said, we absolutely loved the SoftTouch 4260795N and Mega Maxx Furniture Lifter for their compatibility with different types of light to heavy-weight appliances!  
You May Read: Best Couch Cushion Support Reviews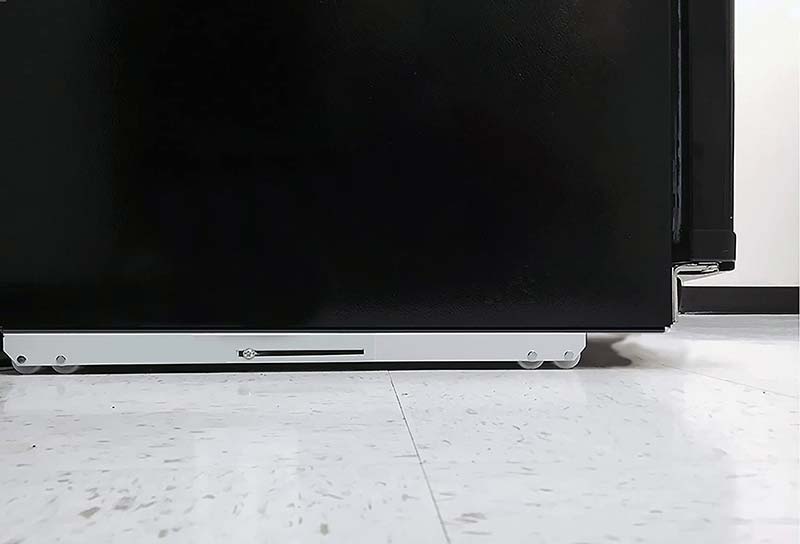 FAQs about Appliance Roller Coasters
1. Can I use a furniture dolly as an appliance roller?
Using a furniture dolly as an appliance roller is not a good decision because the two vary greatly in terms of load capacity, adjustable height, length, and so on.
Use a dedicated furniture dolly like the Mega Maxx Furniture Lifter or get a hold of that brilliant Rock-N-Roller. The latter doubles as a dolly and roller duo and keeps your appliance secured during transportation.
2. Do moving appliances with casters leave scratches on a wooden floor?
Some appliance rolling casters might actually leave marks on the floor. So, you have to be extra careful while transporting heavier items. Pay attention so that you don't exceed the weight limit. A safe choice is the SoftTouch appliance rollers that use non-marring technology. Their surface protection equipment is one of the best in the market.
3. Do appliance rollers work on a carpet?
Rolling loaded appliance rollers across a carpeted floor is where these moving essentials take a big hit. Most of these transportation products can give you a hard time while pushing a gigantic freezer from one room to another.
However, Airsled AM2401-VS comes with four surface adapters, each running 36-inch long and 10-inch wide. They make it easy for the appliance mover to roll effectively on multiple surfaces.
4. What is a heavy-duty appliance roller for moving a giant refrigerator?
Mega Maxx has a handy set of 4 sliders that make moving a piece of cake! In fact, once you install all four sliders, it's safe to say that you can haul 2600 pounds of load at a time. When you think about it, Mega Maxx offers you 7 times the load capacity of an average roller.
5. Are aluminum appliance rollers any good?
Although steel rollers have become more popular with their powder-coated finish and admirable durability, aluminum rollers are still not done. In fact, the Grandekor appliance roller set has a great deal going on- a robust aerial aluminum base, an adjustable height from 3.9 inches to 5 inches, and the durability of literally a lifetime!
Next Read: Best Bathroom Exhaust Fan with Light and Heaters
Final Words
Our search for appliance rollers ends here for now. And it's safe to say that the best appliance rollers are the Mega Maxx appliance rollers. They are a set of 4 sliders that haul 660 lbs on each wheel. It comes with a convenient furniture lifter that allows you to lift the corners just enough to slide the wheels below.
You can also adjust its height and move it across the carpet. But what you can't do is turn corners. If that's a priority, the premium furniture dolly from AFT PRO USA would be of big help. Overall, each of the 10 appliance rollers that made it to our list is worth a shot. Happy moving!