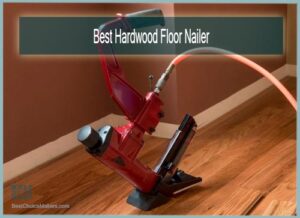 Installing hardwood floors goes back a few hundred years. And it was deemed as prestigious as only the wealthy could have afforded it back then. The main cost was time.
But now we're in 2022, and things have gotten so much better for both homeowners and builders. The process is swifter and shorter.
With the best hardwood floor nailer, you don't even need professional builders. So, it also saves you quite a lot of money. That's why when it comes to precision and speed, a good nail gun has no competition.
In this article, we'll go over all the big and little things you need to know about nail guns and the best options in the market. Stay with us till the end.
Flooring Nailer Vs Stapler
Out of the two, which one do you prefer, or should you prefer? It really depends on your project and the amount of durability you need. For us, it's the nailer. A nailer gun can do more in terms of hardwood flooring. It can use larger nails on thicker hardwood planks.
Of course, it comes down to the nails and staples themselves. If you need to do hardwood flooring, then there will be thick hardwood planks. Staples won't cut it in this case. Staples are good for holding fabric or thin pieces of wood in upholstery, whereas nails are for framing, hardwood flooring.
Brads nails are similar to staples in terms of usage, but they are better as they penetrate the wood more easily and allows the wood to expand naturally.
Moreover, you can find different varieties of nailers in terms of size and functionality, whereas a stapler is a stapler only. Nail guns, depending on the variant, can work with cleats to rose pattern nails.
If you need to use staples, then luckily, some multi-functional nailers can double as a stapler.
So, the decision is made when you pick the project. But having a nailer cum stapler is always an advantage.
What Type of Nail Gun for Hardwood Flooring
Nail guns are made for one thing; to drive nails into wood. But which one is better for hardwood flooring?
There are nail gun varieties such as framing gun, flooring gun, palm nailer, roofing nailer, brad nailer, etc. Granted, all of them are quite good at their job, not all of them are fit for your project. It's because of the difference in nail size in each nail gun.
Only the flooring guns can work with hardwood planks with tongue and groove designs.
Again, there are different types of nail guns depending on their power source. Pneumatic, corded, and cordless are the three options. Most people use pneumatic nail guns coupled with an air compressor. But electrical corded and cordless, both work perfectly.
Brad nailer is a type that gets a lot of discussion about whether or not it's suitable for hardwood flooring. We'd say in the negative that brad nails are not sturdy enough for hardwood flooring. But it can work with thinner wood planks.
Top 8 Best Hardwood Floor Nailer Reviews
To make things easy, we've picked 3 types of nailers on this list in different price ranges; Pneumatic, Battery, and Manual. It's more about a person's preference. Read and see which one sparks your interest.
We have our favorite and our list starts with the NuMax SFL618, which is deemed to be the best nailer out there. Thanks to its pneumatic drive and trigger mechanism. It's easy to move even with the air pipe and very ergonomic for the hands. And multi-functionality is its forte.
1. NuMax SFL618 3-in-1 Pneumatic Flooring Nailer and Stapler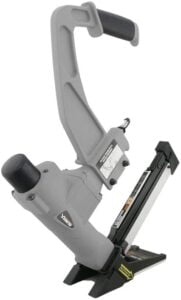 The first product on this list is the SFL618 nailer and stapler from NuMax. If you've seen anyone using this machine, that guy knows his thing. NuMax is a brand that doesn't need an introduction. Let's delve into the product itself and what it offers.
For starters, it's multi-functional in design. To give you a lot of options, this machine can accommodate both nails and staplers, although most prefer nails. But it's good to have the option. Furthermore, you can fire both L-shaped and T-shaped nails with this one. So, there's your 3-in-1 functionality.
In terms of hardwood thickness, it accommodates both ½ inch and ¾ inch thickness with its double base plates. Both of the plates are included. Thanks to these, you can expect no marring on your finished surfaces. For DIYers, this is such a blessing.
When it comes to power, you can drive nails from 1-1/2 inches to 2 inches in length. This nailer machine works with 15.5 and 16 gauge nails only. Luckily most L and T-shaped nails are of the same diameter. For staples, it gives a smooth operation at 70-100 PSI.
Ergonomics is its strong point. With a rubber-lined handle and a good shape, you're looking at long sessions of work without experiencing fatigue. It weighs 12 pounds, but the weight is nicely balanced throughout the body. Is this the best nail gun for hardwood floors?
---
2. Freeman PFL618C Pneumatic 3-in-1 Flooring Nailer and Stapler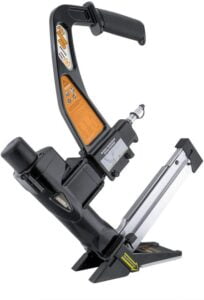 Here we have the eerily similar PFL618C pneumatic nailer gun from Freeman. Did Freeman copy from NuMax, or it's the other way around? We are indifferent to it, and why wouldn't we be? The more competition in the market, the better for us. So, how does this one perform?
It also brings multi-functionality into action with its arrangement for both nails and staples. Although we prefer nails, having the option for staples is great. Not only that, but you can also shoot both L-cleats and T-cleats with this gun. All of these make it a highly versatile nail gun.
For perfect operation, the nails and staples have to be either 15.5 or 16 gauge and between 1.5 inches and 2 inches in length. So, there's no chance of using brad nails with this one.
You can load one hundred and twenty nails in the anodized aluminum magazine. Loading and unloading the magazine seem to be quite easy and don't call for expertise.
In terms of ergonomics, it scores an almost 5-star rating from us. With a rubberized and nicely shaped handle, you should expect zero fatigue. If there is any fatigue, the fault lies in the weight of the machine. It's a little heavy machine despite having an aluminum body.
For more points in its design, it has no-mar base plates to prevent damaging finished surfaces. It's one of the best pneumatic hardwood floor nailer machines.
---
3. DEWALT DCN680B 20V MAX Cordless Brad Nailer, 18GA, Tool Only
Dewalt needs no introduction; it's a giant among giants. At number 3, we have a different kind of nail gun in terms of both design and purpose. This Dewalt cordless nailer is specifically designed for your brad nail uses and nothing else. So, how is it?
Before you read the review, keep in mind that you're looking at a single-purpose nail gun. So, don't compare it with all-in-one machines. With that out of the way, this nail gun works with brad nails which are thinner and usually shorter than your normal cleat nails.
Most brad nails are of 18 gauge diameter and between 3 quarter of an inch and 2 inches in length. And this nailer supports 18 gauge brad nails.
Unlike the previous nail guns, this is run by battery. So, there's no air pipe or electric cord to worry about when working. This freedom is something to be appreciated. With each charge, Dewalt's brad nailer can drive up to 850 nails which equals almost 200 square feet area.
The magazine holds 110 nails at once. And you won't need any tools to clear it when it gets jammed and when you want to adjust the depth.
Overall, it's a beautifully designed lightweight brad nailer for hardwood floors. Without the battery, it weighs only 5 pounds.
---
4. CRAFTSMAN CMCN618C1 V20 Cordless Brad Nailer Kit, 18GA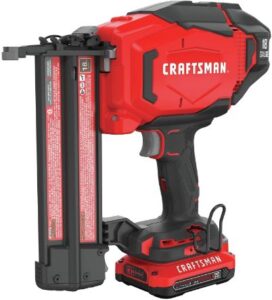 Here we have another brad nailer from Craftsman with the same features as the Dewalt. As a brand, Craftsman is not at the same level as Dewalt, but it has been improving, and this nail gun is proof of its improvement. Especially if you consider the previous C3 SpeedShot model.
Don't think that we're bashing the old C3 model, it was a good nailer. But this model has higher nail-driving power, better line of sight, and a more ergonomic handle.
So, this nailer works with brad nails, and as we know, 18-gauge is the general diameter. It can drive nails ranging ¾ inch to 2 inches in length.
This is also run by a DC battery instead of air. The freedom from the cord and air pipe from the compressor make the movement swifter and faster. With the battery, you can drive up to 800 nails on one single charge. So, you won't even need to recharge the battery for a few sessions.
With the old design, you had to use a certain wrench to release the jammed nailer. Thanks to the tool-free design of this Craftsman nailer, with one swipe, you can easily clear the jammed pathway.
As mentioned before, the ergonomics on it are top-notch. But when firing the nails, it was observed that it doesn't fully go into the wood as it should. So, it needs a bit of manual hammering to even it. Other than that, it's a fine brad nailer.
---
5. Powernail Model 50F, 18-Gauge Cleat Nailer for Engineered Wood Flooring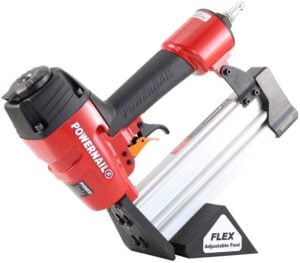 At number 5, we have a nail gun from the well-known brand Powernail. This has a different purpose than the ones above. As it says in the title, it's specifically for engineered wood floor installation. So, if that's the element you're working with, you'll love this affordable piece of equipment.
This machine is an 18-gauge nailer instead of a 15- or 16-gauge. Not many L cleats come in this size, but for engineered wood, this is a good choice. 18-gauge nails are thinner and are more forgiving to a wood structure. You can use any 18 gauge L-cleat nails, but it's not a brad nailer.
What is the thickness of your planks? This nail is powerful enough to nail down wood with 3/4 inch to 3/8 inch thickness. It's perfect for the top engineered wood planks.
This nail gun is fully adjustable, thanks to the adjustable flex foot. You can adjust the angle of firing and maintain stability throughout the operation. And it's a tool-free design. This adjustable foot wouldn't scratch your finished surfaces if you were worried about that.
We would have loved it if it also included a tool-free design for releasing jammed nails, but sadly that's not the case.
Furthermore, it's a pneumatic nail gun powered by air, so there is no extra weight to it, unlike battery-powered machines.
---
6. Porta Nails 402A, 16-Gauge Manual Hardwood Flooring Nailer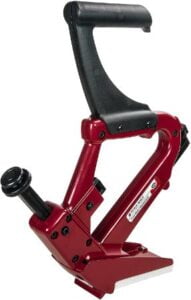 This is the first of three manual nailers on this list. Is this a good manual nailer? You can be the judge of that. We think it's a good floor nailer for 3/4 hardwood. You have to spend a hundred more bucks to get a better nailer with similar features.
In terms of features, it's a pretty simple machine. You have a mallet, and you use it to hammer down the nails. It's a sturdy one for sure. The aluminum body coupled with machined and heat-treated steel parts has given it a good level of durability. But the aluminum also makes it a lightweight tool.
This is a great tool, especially for amateurs due to its manual mechanism. Lack of trigger mechanism means there's no chance of mishaps unless it's intentional.
It has Porta Nails' original rachet assembly that ensures proper strikes. The ram won't come back to its place as long as the nail isn't seated on the wood properly. A good strike will do the job. And it comes with a mallet, rugged carry case for looks and functionality.
With this machine, you can nail down tongue and groove flooring with 5/8 inch, 3/4 inch, and 33/32 inch thickness. And you can only drive T-headed nails 1.5-2 inches long with this nail gun.
---
7. BOSTITCH BTFP12569 2-in-1 Flooring Nailer – Best Manual Hardwood Floor Nailer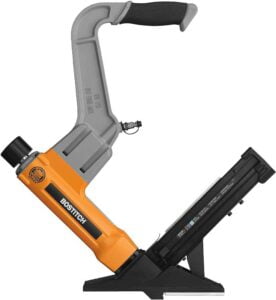 This is a contender for the best manual hardwood floor nailer available on the market. Bostitch is not new to the scene of building tools. If you have been around the house building scene, you know Bostitch means quality. But this one may not be for everyone.
For starters, this is a manual hammer nailer which requires a bit of physical strength to work with. There's no internal mechanism to drive the nails. It only has a pneumatic pushback mechanism to get the ram back in place.
The overall design of the tool is bottom-heavy, and that's a good thing because it helps to keep the tool in place when hammering. You may think that it causes fatigue, but as you continue to use it, it feels just right.
Unlike the battery-powered or pneumatic nail guns, it's not easy to use on a table as the hammer strike needs a high range of motion.
It's a multi-functional device as it can drive both staples (15.5 GA) and nails (16 GA). Having both the options is great, but to be honest, the stapler function will be very limited due to its shape and bottom-heavy design. The nail length for this tool is 1.5-2 inches.
To release the jammed nails, you'll get a few wrenches. But this is a downside if you compare it with the newer tool-free design.
---
8. DEWALT DWFP12569 Flooring Stapler, 2-in-1 Floor Nailer for Hardwood Flooring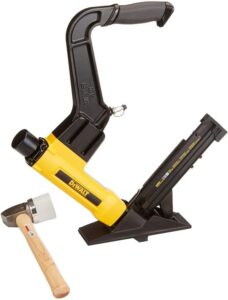 The last one on this list is the Dewalt DWFP12569 floor nailer for hardwood flooring. Unlike the previous Dewalt nailer on this list, this has a manual mechanism, and it drives 16-gauge nails. Due to the simple design, it's priced very low, which caters to low-budget projects. But is it any good?
It is the best solid hardwood floor nailer you can come across, especially considering its price range.
This Dewalt nailer can drive both staples and nails, which makes it a good versatile tool. You need 15.5-gauge for staples and 16-gauge for nails. And it is suited to 1.5-2 inches long nails. These nails will have to be L-shaped cleats.
So, if you have a flooring thickness of half-inch to three-quarters of an inch, this nailer cum stapler will be a good fit. It has a pneumatic action to drive the ram back into place after each strike.
As a safety mechanism, the ram won't come back into place if the nail isn't struck properly into the wood. So, you have to use multiple strikes if need be.
The base plates on the tool will protect the finish on your surfaces. And that makes it a top consideration when it comes to engineered and hardwood flooring.
---
What to Consider Before You Buy a Flooring Nailer
The difference between a good flooring nailer and a bad flooring nailer is that the latter one will cause you much headache while requiring repair. So it's for your own good that you need to buy the best possible nailer.
To do that, it's better to follow a list of criteria. Below, we've shared some important points and tips to make your life easy.
What Do You Need?
To select the right set of tools, you need to know what type of project you're working with. Do you need nailers or staplers, or whether or not you actually need one? All of these will factor in making the final decision. Below are some of the considerations to follow,
Home DIY Use or Professional Builder
What do you need your nailer for? If you're going to be working by yourself without a professional builder, you need the right tools for DIY projects. When you're working for your own home, you can make customizations and cut down the budget. And that also affects the nailer.
For example, unlike professionals, most homeowners don't have an air compressor in their garage, so pneumatic nail guns are out of the question.
However, if you're going to be extending your services to the town, you have the space to invest in a more advanced nail gun with better accessories. The tool for the trade needs to be the best tool for the job.
Pneumatic vs Battery vs Manual
There are three types of nail guns due to the difference in the power source. Choosing one among the three is the best decision you can possibly make for your future projects. At the end of the day, ease of use, efficiency in terms of money and energy, and affordability will be the key.
These three are quite different from one another. The pneumatic and the battery-powered nail guns are more complex, while the manual nailer is quite simple. Here, you need to choose whether or not you want the simplicity or faster work speed.
Amateurs will prefer the simplistic mechanism of manual nailers, whereas a professional builder will always opt for faster work.
But then again, hammering down the nails can be hard for a group of users. So, this might not be the best option overall, although these tend to be in the affordable range.
Portability
This is an important point to note because if you need to constantly move around, you need portability. And having a cord or a pipe attached to the nailer makes it hard. That's why pneumatic nail guns are not good for portability. You need an air compressor and a pipe to run it, unlike the battery-powered or manual nail guns.
For hardwood flooring, a pneumatic nail gun is a good enough option as you don't need to move far.
Nailers or Staplers?
Decide which one you need depending on your purpose. If it's framing, hardwood flooring, then nails are the way. Or if it's about fabrics and upholstery, then you need a bunch of staples.
There are few other differences between the two. Firstly, staples are generally cheaper. Their difference can be as much as 50%. But cheaper doesn't always mean better. Here it might be the opposite.
Cleats or nails are better than staples in terms of durability and forgiveness for the wood pieces. Although staples provide firmer hold, they deform the internal wood structure; nails are better at the natural expansion of the wood.
Fortunately, things are very easy for us compared to the earlier generation. We can now buy nail guns that can also work as staplers.
Weight
The weight of your nail gun will matter a lot as you'll carry it most of the time. And also, it affects maneuverability. Most good nail guns are made from an aluminum body with some hardened steel parts.
But don't always go after the lightest of the tools because it may lead to a bad decision. A tool made with flimsy iron is light as well, but it's also the least durable. One drop from the hand can make it dysfunctional.
Design and Ergonomics
The experts know that weight isn't the end. Everything depends on the design aspect and its ergonomics.
Most manual nailers are bottom-heavy tools that are rightly designed for hardwood flooring. It helps to ground it firmly and allows a good strike.
Depth Control
Hardwood floor planks come in different thicknesses, which means you'll need different types of cleats and staples. To achieve this perfectly, your nailer should have some adjustability to its driving angle and depth control.
Cheaper nail guns will have only one depth, and better nail guns will have an adjustable depth that is done manually. Fortunately, for the amateurs and those who don't like to deal with the hassle, there are tool-free depth adjustment systems in newer models.
Accessories
This is an optional point to consider. Accessories can make life easier. Other than a mallet, you will also need wrenches to release jamming; carrying bags for easy storage are good accessories to have. Having extra base plates as replacements is always appreciated.
For pneumatic nail guns, there are compressor hose fittings of different kinds. A manufacturer will rarely add everything to the package.
Dry Firing
The dry firing means when you press the trigger or strike with a mallet when there are no fasteners inside. And this can cause problems by jamming the nailer.
Now, the newer models have this feature called Dry Firing Lockout that prevents the user from firing dry, i.e., a low number of cleats. And that also means you don't have to take the hassle of clearing out the jam.
And finally, always keep safety gear around.
Brand
We don't really like to talk about brands as it can derail the topic. But it's never a bad option to seek out good brands and their products as they are usually reliable. Always check the user ratings on the websites.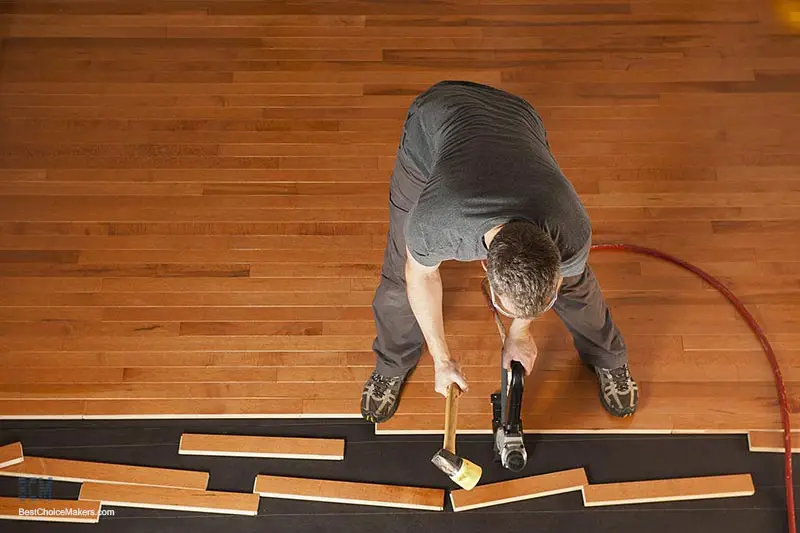 Frequently Asked Questions About Flooring Nailer
1. Can I use a nailgun without an air compressor?
An air compressor is used to power pneumatic machines. So, yes, you can use a nail gun without an air compressor if it's not a pneumatic nail gun. You can either choose battery-powered nail guns or fuel-powered nail guns.
2. Are battery-powered nail guns good?
Battery-powered nail guns are a refreshing element to the nail gun scene. You don't have to carry around an air compressor or fuel tank. A single charge on a nail gun can last you days of continuous use. But most battery-powered nail guns have a limitation in terms of power.
3. Should I buy a 16-gauge or an 18-gauge nailer?
That fully depends on what you want to do with it. If it's for hardwood floor installation, you need L-cleat or T-cleat nails and a 16-gauge nailer. For simpler use on thin wood, you can opt for an 18-gauge nailer.
4. Why does my nail gun shoot double nails?
It happens due to the recoil mechanism of nail guns. If the trigger doesn't go back into its place properly, it may cause a double fire.
5. Why is my pneumatic nail gun shooting air?
If it leaks air when you engage the trigger, it's most likely that your machine's O-ring isn't placed properly, and it's not sealing the pathway of the valve.
Final Words
There you go, that's everything you need to know about nail guns for hardwood flooring. We'd suggest getting a nail gun that can double as a stapler as it can make your life very easy.
Multi-functionality is always better, and as you can see from the reviews, the best hardwood floor nailer always incorporates a multi-functional design. Unless you have a small budget, we'd ask you not to buy a brad nailer if it's hardwood flooring you want to do.
You know our recommendations. But in the end, it's you who needs to decide. Always maintain safety when working.